Want to enjoy late nights on your deck even after shorter autumn days arrive? If so, consider illuminating your outdoor living space. With the right combination of outdoor lighting, your open-air living area can accommodate small gatherings in both the light of day and under a starry sky. By adding an element of continuity, lighting can also provide a seamless transition between indoors and out. And rest assured, even small additions can take your deck from a seasonal hangout to a year-round outdoor living room.
Feeling inspired to spend more time on your deck even as hours of daylight disappear? Check out these three easy and affordable outdoor lighting tips:
Play with layers of light. According to residential lighting guru and frequent HGTV guest Randall Whitehead, "there is no single light fixture that gives you everything you need to illuminate a living area properly." He implies that by incorporating an assortment ambient, task and accent lighting, known as light layering, outdoor spaces gain additional function and a more defined aesthetic.
Pro-tip: More purposeful than ambient or accent lighting, task lighting is generally intended to make small nooks and crannies "shine bright." Defining a deck's perimeter by installing LED outside lights on railing post caps is a popular use of task lighting. And because installed lighting can be directional, you have the freedom to shine light "up" from the deck or "down" towards deck surface boards. Doing so will increase visibility after dark, making it easier to maneuver from point A to point B without stumbling.
Step smartly. When it comes to installing outdoor lighting on your deck, staircases should also be given high priority. Properly illuminated deck stairs can greatly reduce the risk of an accident by providing an accurate sense of the height of a step's drop. To "sidestep" potential trip and fall mishaps, consider installing recessed deck lighting fixtures between risers.
Go "green" with LED outside lights. Expending 90 percent less energy than incandescent lighting, LED lighting is a sustainable alternative. And because this "green" solution will last roughly 50 times longer than an incandescent bulb, you can count on a high-performing, long-term investment. An added perk? LED lights also generate substantially less heat. This greatly mitigates the risk of flame if lights are installed adjacent to combustible décor, such as throw blanket or seat cushions.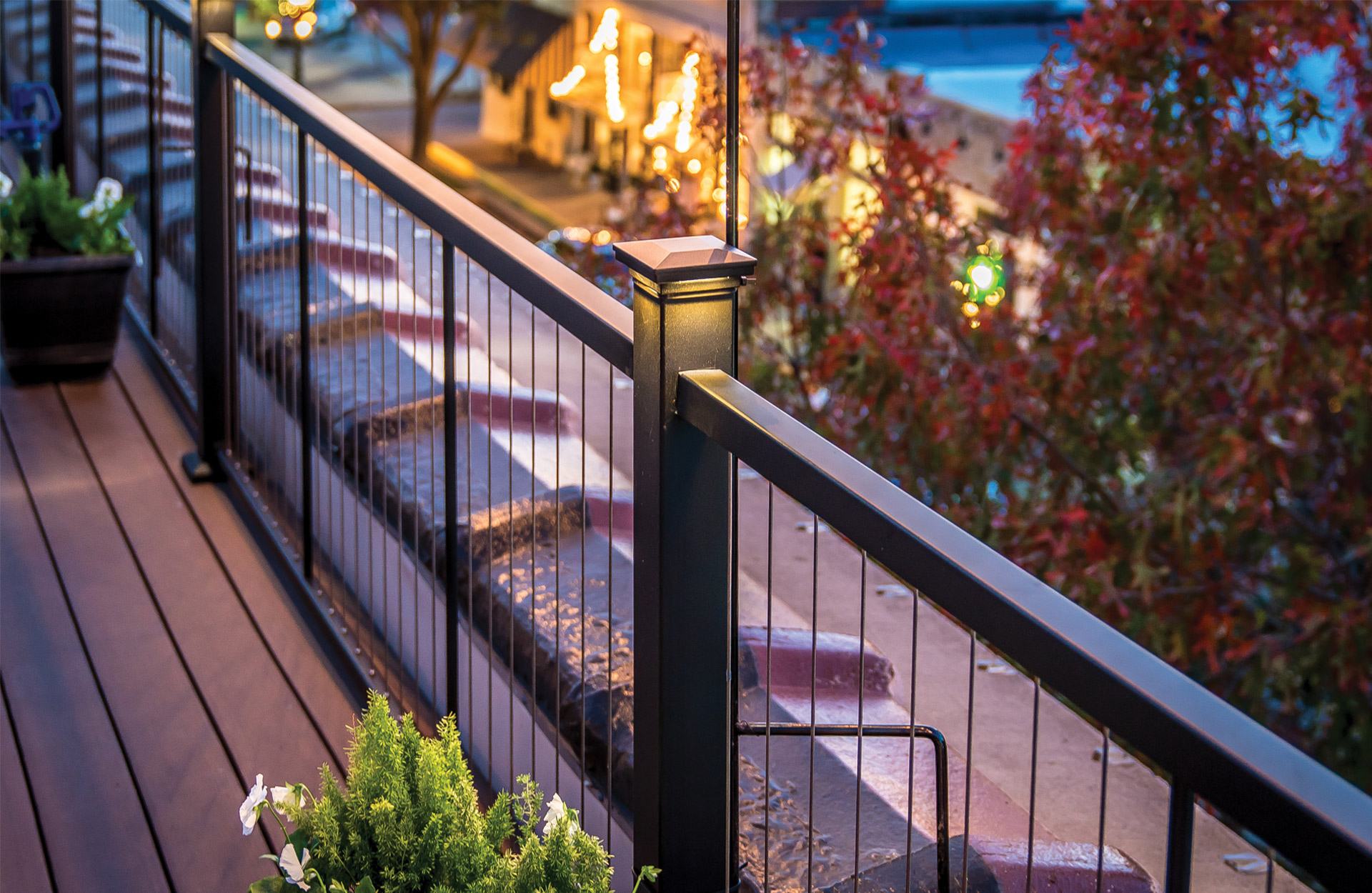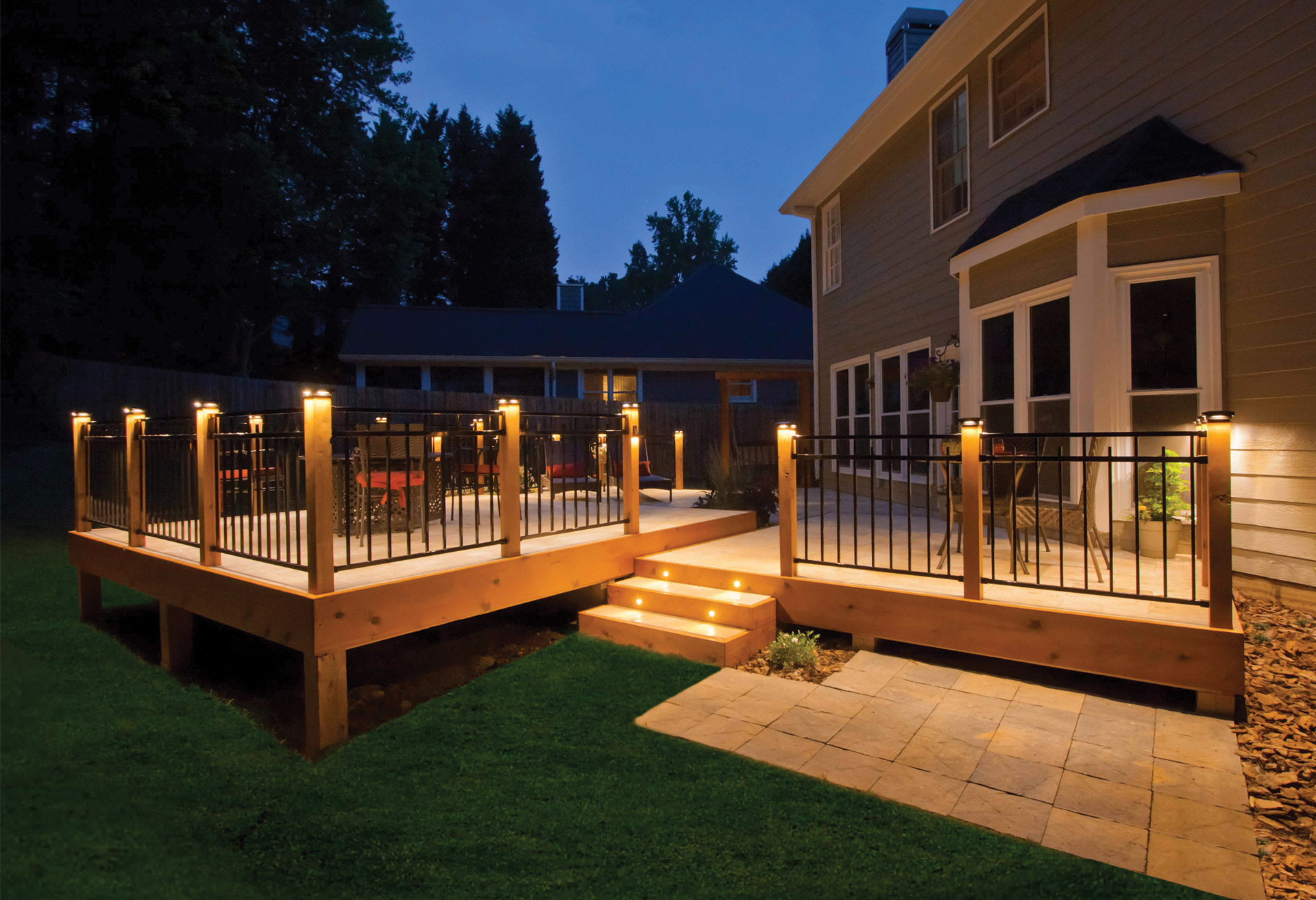 Ready to make the most of your evenings with outdoor lighting but not sure where to start? We've got you covered. Fortress® offers an integrated line of stylish railing post caps and LED lighting accents that will "light" up your deck with personality. And thanks to our innovative design features, lit and non-lit post caps can be used interchangeably. With this modular system, installing and removing a waterproof LED light system is a breeze. And the best part? Our dimmable LED light solutions rely on a photocell, so your lights will turn on when it gets dark and turn off when the sun comes up. With this function, you can rest easy.
Discover more lighting inspiration at fortressbp.com/lighting-accessories.