Thanks to the latest advances in manufacturing, alternative decking materials like bamboo-based composite and PVC are able to successfully emulate the richness and beauty of wood, but lack the propensity to warp, crack or deteriorate over time. These improvements in performance and aesthetics have led to a growing number of manufacturers backing the performance of their wood alternative surface boards with impressive warranties – some lasting 25 years or more. That being said, innovations in decking materials have raised serious concerns about the life expectancy of products traditionally used for foundational framing. For example, pressure-treated lumber framing typically begins to deteriorate after 10 years. As put by one veteran deck builder, "it doesn't make sense to frame a deck with pressure-treated lumber to support decking that's expected to last several years or even decades longer than the (deck system's) framing."
To defend against a spendy deck system overhaul, homeowners and deck builders are increasingly turning to steel deck framing systems because they're designed to last just as long as today's enduring composite and PVC deck boards.
How long does a steel deck frame last?
Engineered to last 25 years or more, steel deck framing systems will sideline any issues associated with moisture absorption, one of the most common reasons that wood framing will begin to show signs of decomposition after 10 years or more. In fact, because steel is resistant to most tangible threats, including rot and decay, fungi, pests and weathering, steel frame profiles will remain straight and true over the years. This makes for a more enduring, dimensionally stable deck framing solution that keeps surface boards flat and smooth underfoot.
See how leading-edge deck framing solutions, like our Evolution steel deck framing system, compare to traditional wood deck framing below: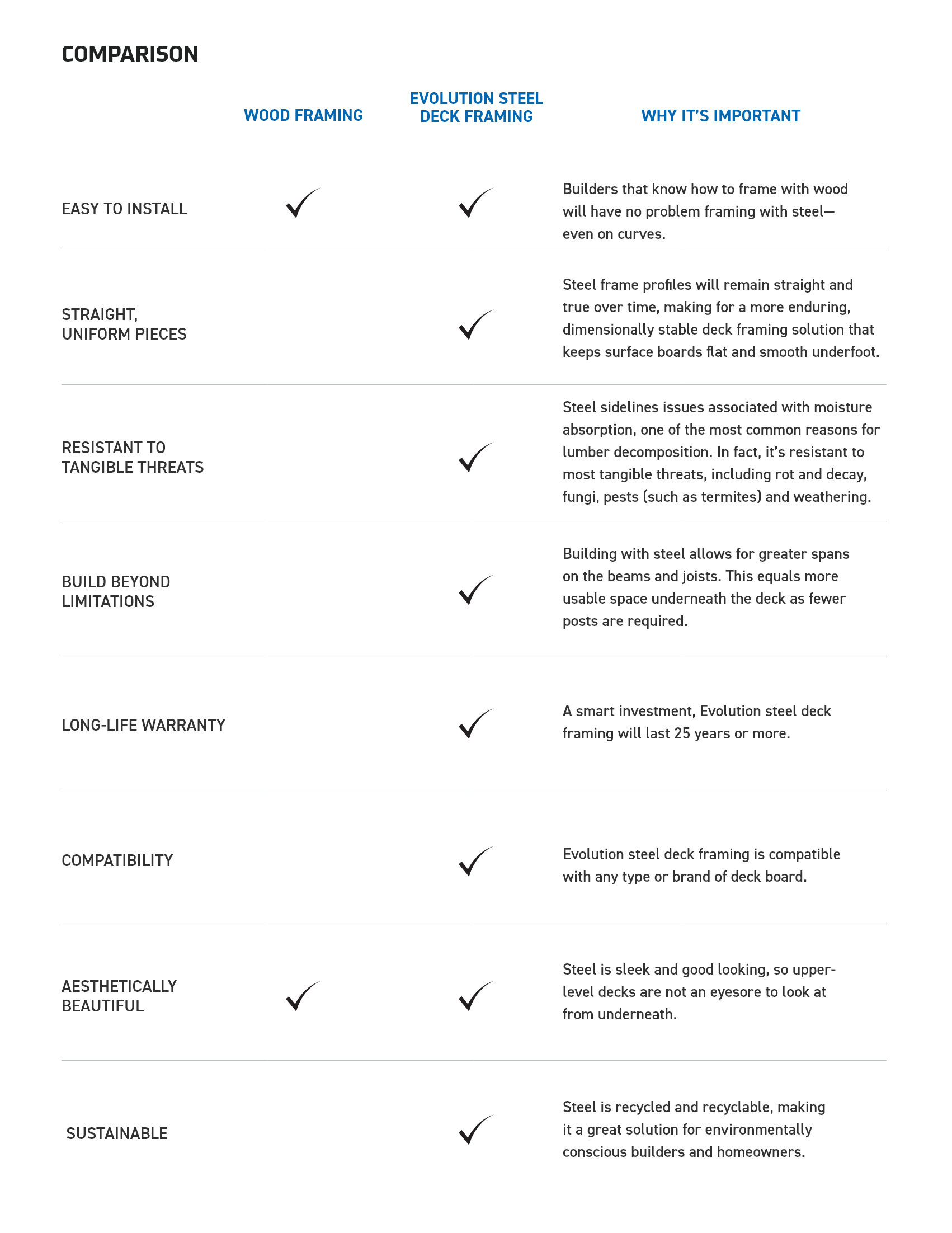 Good news! It's easier than ever to build a high-performing, aesthetically beautiful deck system from the bottom up. Track down Evolution steel deck framing at a qualified dealer, home improvement store or online retailer at fortressbp.com/where-to-buy.