Winter is when outdoor upgrades tend to slow down. The short days and cold weather can make even the most ardent outdoor enthusiast second guess spending time outside. But for many do-it-yourselfers who have discovered the joy of renovating their outdoor spaces, winter does not have to damper the DIY drive. With more inventory on the shelves, winter can be an excellent time to plan or even start improving on-deck experiences with deck railing upgrades. Here are five deck railing ideas to mull over during the colder months:
1. Opting for sleek steel deck railing
2. Letting the scenery do the talking with glass railing
3. Adding a drink rail
4. Upgrading to low-maintenance materials
5. Lighting the deck railing
1. Go sleek with steel deck railing
Even though Maximalism has been an interior design trend in 2021, outdoor spaces have stayed committed to reduced shapes and minimal aesthetics. Steel deck railing, with its clean and simple lines, can provide the right amount of accenting to make one's deck and yard pop into the foreground. And if a homeowner wants to hint at minimalism but is not quite ready for it fully, innovative manufacturers offer accents to personalize this sleek deck railing system. Plus, steel deck railing is stronger than wood railing. With advances in coating technologies, it is also rust and corrosion resistant, making it durable and long-lasting even in the harshest conditions.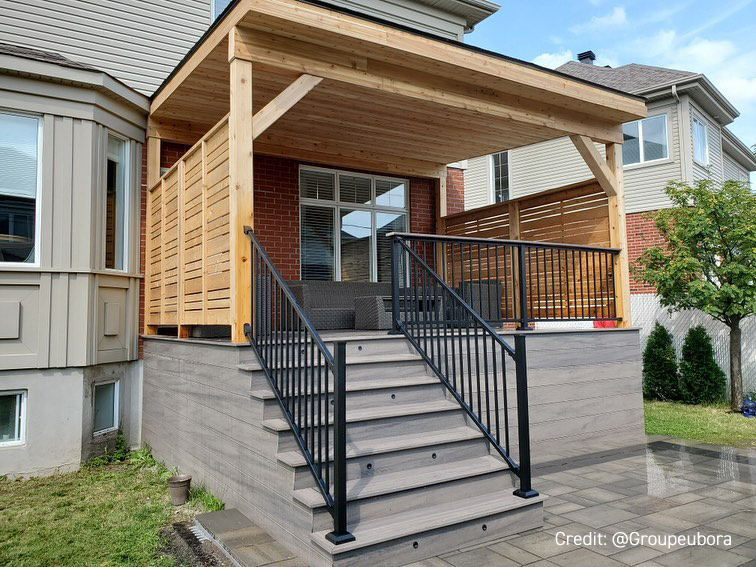 2. Glass can be a bold DIY deck railing idea
Glass deck railing can open a deck to the views beyond it. The clear glass panels, or balusters, and minimal rail profiles let the scenery do the talking. But traditional glass railing systems can be complicated to order and install, often requiring professionals. The good news is advances in drop-in style glass panels make installation a breeze for DIYers. The sleek modern aesthetics of glass railing systems coupled with their low-maintenance form make them a unique and creative deck railing idea.
3. Don't forget about the cocktails
As the past couple years have shown, outdoor spaces are indispensable when it comes to spending time with loved ones, which might explain the continuing popularity of cocktail railing or a drink rail. This design feature is simply a flat-top rail that is perfect for holding glasses, potted plants, candles and more. While wood railing is a popular choice, it is susceptible to warping and rot. Sweat from a cool glass on a balmy day, rain, water draining from a potted plant, dew and frost all speed up wood's deterioration, which is why many homeowners are increasingly opting for virtually maintenance-free composite and metal flat accent top rails to handle both their drinks and safety code-requirements. These accent rails can also be changed after installation, so homeowners can update their deck railing's profile whenever they feel the need for change.
4. Low-maintenance is a must
Traditional wooden deck railing requires frequent maintenance to stay beautiful and functional—and even then it will still need replacing eventually. All this maintenance takes time away from actually enjoying an outdoor space. That's where aluminum deck railing can make a huge difference. These sleek and modern railing systems are not susceptible to corrosion or rust, which means they can weather the toughest storms without splintering or warping like standard wood railing.
Steel cable deck railing is also virtually maintenance-free thanks to a corrosion resistant coating. And unlike other cable deck railing offerings that require regular tension adjustment, homeowners only need to tension the system on install. This means homeowners can spend more time enjoying their decks and the unobstructed views these railing systems provide.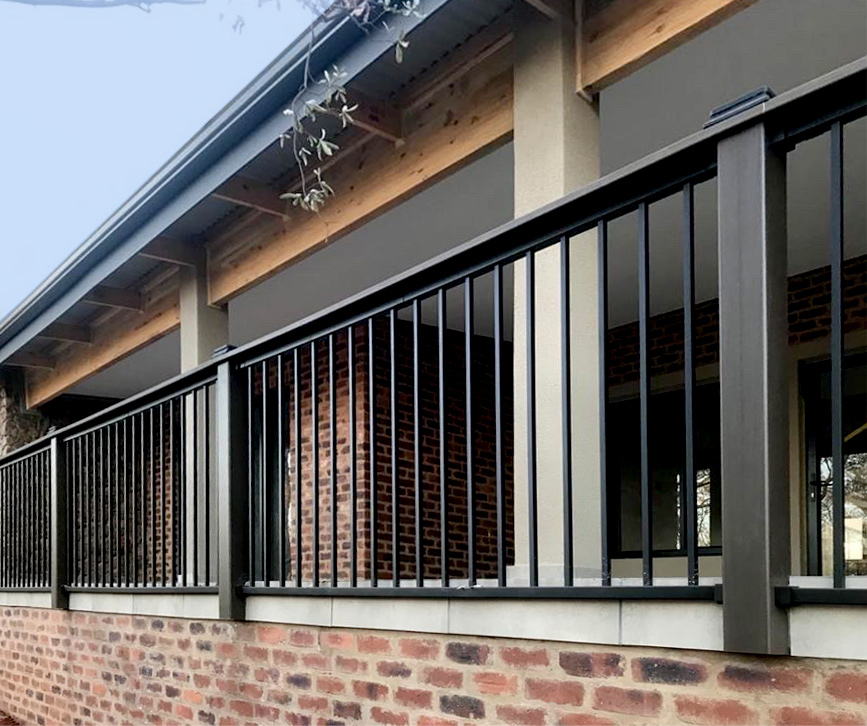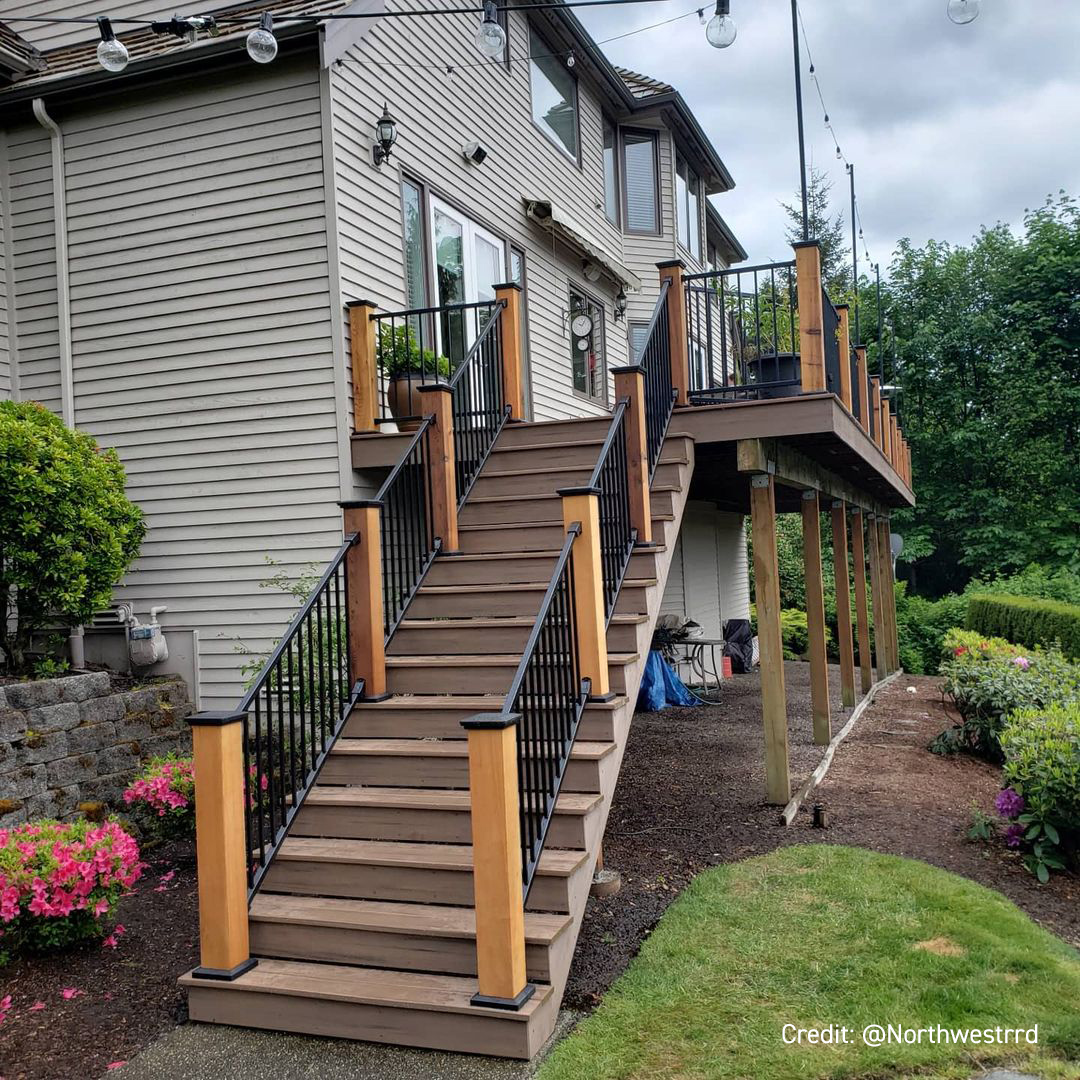 5. Deck railing that really shines
With longer nights, outdoor lighting can give warmth to any deck railing, which makes it a perfect deck railing idea for winter. Outdoor lighting has grown leaps and bounds from its early days of floodlights and string lights. But not all lighting options are easy to install and fit a wide range of design aesthetics. That said, select lighting accessory manufacturers offer a complete line of post caps, base covers and LED lighting accessories designed for easy integration with deck railing systems to give any outdoor space a brilliant ambiance after the sun sets.
Getting creative with deck railing upgrades
Whether lighting up a drink rail or installing a completely new deck railing system, Fortress Building Products offers deck railing and accessories that are not only durable but also beautifully designed. Because these systems are easy to install, DIYers need not wait for the warmer months to begin the outdoor upgrades of their dreams.
You may also like:
Balcony Railings: Top Questions Addressed
What are Deck Post Caps and Why do You Need Them?
Installation 101: Guidelines and Code Requirements for Deck Railings