Outdoor upgrades continue to be popular projects for homeowners. Certainly, the pandemic has created a demand for versatile open-air spaces, but this popularity is no flash in the pan. A 2021 U.S. Houzz & Home Study found that homeowners have continually increased their investments in outdoor spaces since 2018. The experts at Colorado Builder see three major trends guiding these upgrades:
Contextual accuracy—extending the home's personality to the outdoors.
Maintenance-free materials—withstanding the elements in style.
Contemporary looks—opting for clean lines and extreme darks and lights.
These trends come together in one element, deck railing. No longer just a building code requirement, today's deck railing gives homeowners the opportunity to create a one-of-a-kind outdoor sanctuary. In search of fulfilling that unique vision with advanced materials, many homeowners are wondering: which is better vinyl or aluminum railing? Since each material has its pros and cons, homeowners should consider these five areas when deciding to go with vinyl or aluminum railing: aesthetics, performance, maintenance, installation and cost.
Which is Better Looking, Vinyl or Aluminum Railing?
Vinyl railing: cannot be painted, so its colors are limited. While vinyl railing can last for years, after a few seasons, its color will dull as it forms a chalky, white powder from oxidization. Darker vinyl will fade in the sunlight, which makes color matching nearly impossible. Also, because vinyl railing often needs structural reinforcement, it tends to be a little bulkier, which may be at odds with a more minimal design aesthetic.
Aluminum railing: also has a limited color palette but one that is fade resistant. Given aluminum's sleek form is perfect for clean lines, this limitation actually works to highlight the material's minimal feel. Aluminum railing can easily match the chic linearity of modern window frames, allowing for a greater continuity between home and deck. As deck lighting continues to be a trend in outdoor upgrades, Fortress® offers modular lighting systems, from railing post caps to LED lighting accents, that let a deck's personality shine when the sun goes down. Plus, their interchangeable design makes installing or updating them a breeze.
Does Aluminum Railing Outperform Vinyl?
Vinyl railing: is approximately five times stronger than wood. It is also resistant to rot and insects. While the colors are limited, vinyl railing is dyed all the way through, meaning scratches will be less noticeable.
Aluminum railing: is also undeniably stronger than wood. Because aluminum does not corrode, it can withstand snow, ice, rain and harsh UV exposure without flinching. Coupling aluminum railing's natural strength with innovative pre-welded systems, leading manufacturers have increased its ability to keep decks safe even in the harshest conditions.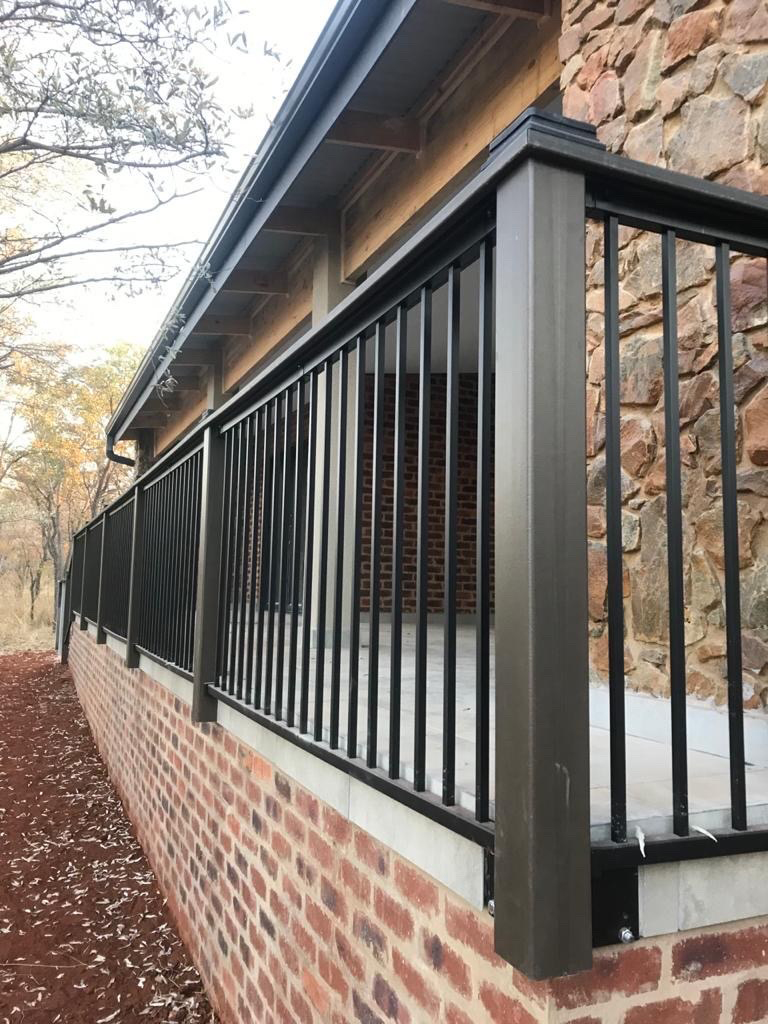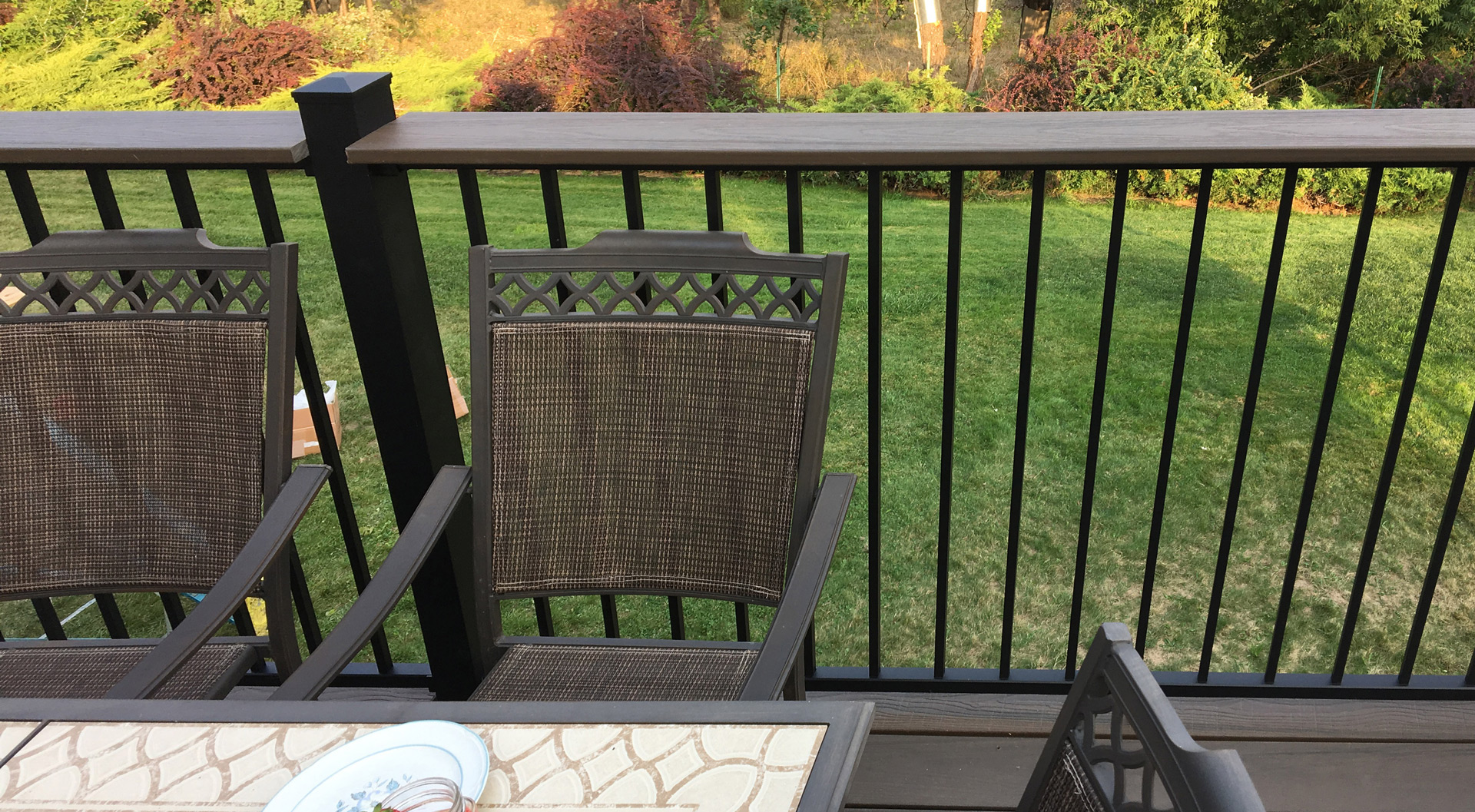 Low-Maintenance vs. Virtually Maintenance Free Railing
Vinyl railing: often only requires routine cleaning with soap and water. However, in extreme heat, vinyl will expand. While this is not necessarily a cause for concern as most professional installers will account for it, it could pose a problem when replacing damaged parts.
Aluminum railing: will not rot, rust, corrode, splinter or crack. Given the material's ability to disperse heat, it does not expand like vinyl, increasing its longevity and integrity. Choosing leading manufacturers who dress their aluminum railing systems with multi-layered, anti-corrosion powder coating often means the only maintenance it requires is a bi-annual cleaning with soap and water.
Which Deck Railing is Easier to Install?
Vinyl railing: is simple to install—many DIYers say it is like putting together a giant toy. As noted above, any installer will need to keep in mind how the material expands in heat. Additionally, installers ought to be gentle when making cuts as vinyl can easily crack and splinter if cut incorrectly.
Aluminum railing: is lightweight and adaptable to any deck set-up. Pre-welded railing panels and simple bracket systems make aluminum railing a fast and viable option for any homeowner, cutting down labor cost and time.
Does Vinyl Railing Cost Less than Aluminum?
Vinyl railing: may be the least pricy option for railings. However, it does have other costs. The processes used to create vinyl can have a sizeable environmental footprint. Vinyl can only be recycled a limited amount of times, meaning that replacing damaged parts could contribute to the already overabundance of plastics.
Aluminum railing: can be infinitely recycled, so if something ever needs replacing, the damaged part can be reused. Additionally, the aluminum industry has worked steadily to reduce its overall carbon footprint and energy needs. Aluminum's ability to withstand the elements also means less cost to the environment and fewer dollars spent on maintenance and repair, so while aluminum may need a larger upfront investment, its durability has advantages over its lifecycle.
Which is Better Overall Vinyl or Aluminum Railing?
Ultimately, homeowners have to decide what material is best for their specific needs. Which material gives the quality they need while matching their outdoor spaces? Aluminum railing is durable, easy to install, and is adaptable not only to any layout but to future upgrades like lighting and fence matching as well. While both materials are tough, aluminum provides strength without sacrificing the minimal look that many homeowners are currently seeking in their outdoor living spaces.
The experts at Real Homes believe metal is the best material for railing. As shown above, aluminum railing certainly has its advantages. But what about cable railing, steel railing or glass infills? Fortress Building Products offers all these options for your railing needs. See how they compare at: FortressBP.com/railing.
You May Also Like:
Balcony Railings: Top Questions Addressed
Wood vs. Composite Deck Boards: The Great Debate on Decking Material