For devoted pet owners, the safety of the furry members of the family is a top priority. Now, as the days are growing longer and summer is on the horizon, more people are looking to improve their outdoor spaces for the whole family, pets included. It's no wonder then that many are left asking: what type of fencing is best for dogs?
Along with looking at materials, terrain, and lot size as factors, the main thing homeowners need to consider before installing a new pet-friendly fence is their dog. Breed, size and individual temperament all factor into deciding which type of fencing is most appropriate for their pets.
Thinking about each dog's needs
Each dog has its own personality traits, regardless of breed. Before investing in a pet-friendly fence, homeowners should spend plenty of time observing their pets in outdoor settings. While they might follow their owners around at times, dogs can act differently if they're alone in the yard. Knowing a pet's personality and outdoor habits before investing in a fence will help keep them safe.
Another thing to consider is the purpose of the fence. If it's only needed for peace of mind while homeowners are around the property, owners might opt for a different fence than for pets who will be unsupervised for long periods of time.
What type of fencing is best for dogs: wood or composite fencing?
Wood fencing continues to be a popular choice for many homeowners due to the privacy it provides.
While this privacy is a plus for the human members of the family, certain dogs, depending on temperament, will be more inclined to try to break through the boards because their line of sight is blocked. This leads some dogs, especially breeds such as Labradors, Retrievers and Beagles, to attempt to chew through the wooden boards. As Cesar Milan writes in this question and answer post, the obvious solution is to get a better fence.
The strength of wood fences can also become compromised over time. On average, maintenance is recommended every two years, and full replacement is often required at year 15, depending on climate and care. Along with becoming an eyesore, once boards begin to rot and warp, it's much easier for dogs to break through and escape.
Composite fencing, on the other hand, offers the same privacy of traditional wooden fences without all the upkeep. Weather- and scratch resistant, this option can stand up to the added wear and tear some dogs may cause.
Best for: small to medium breeds or mild-mannered larger breeds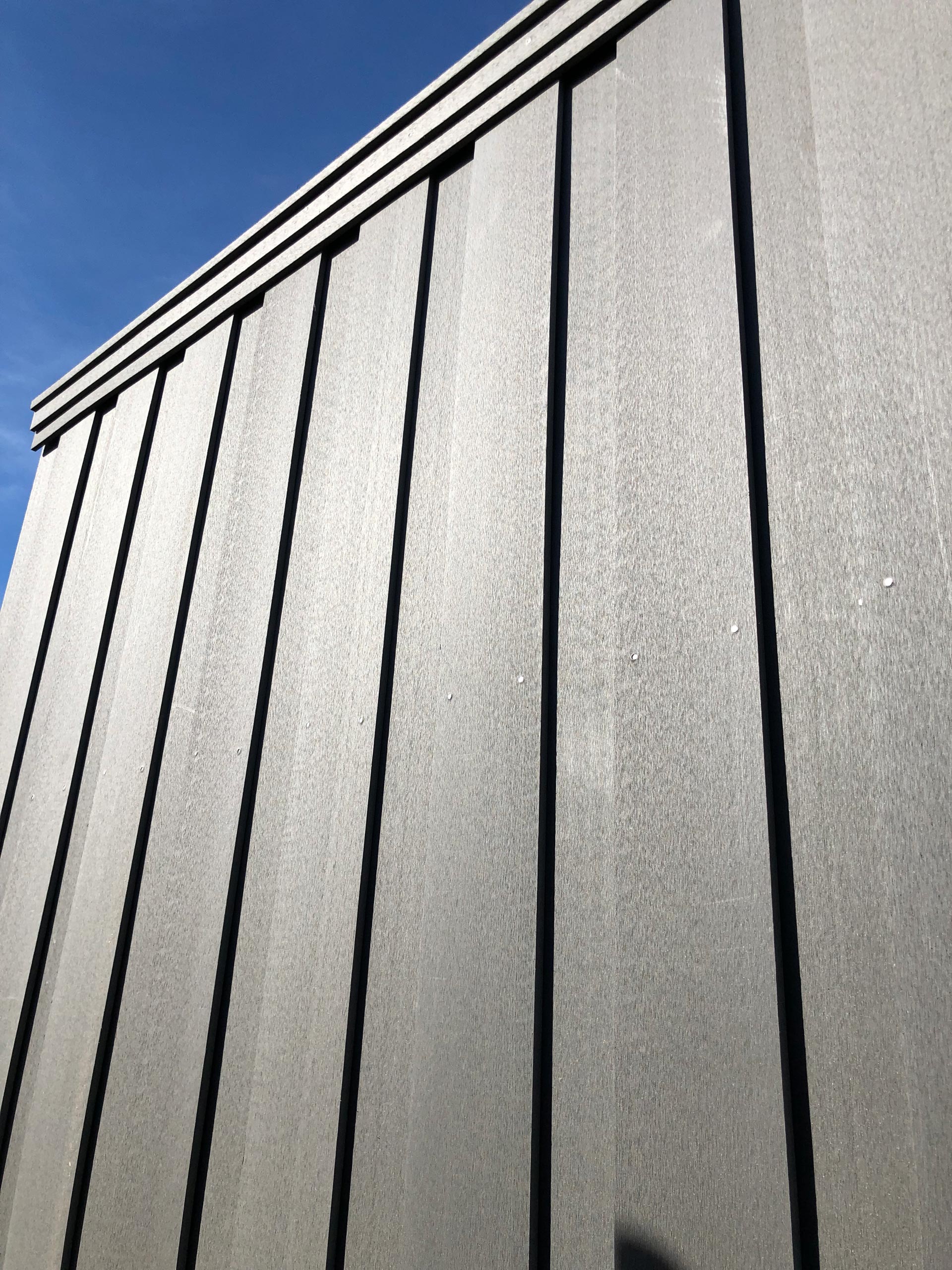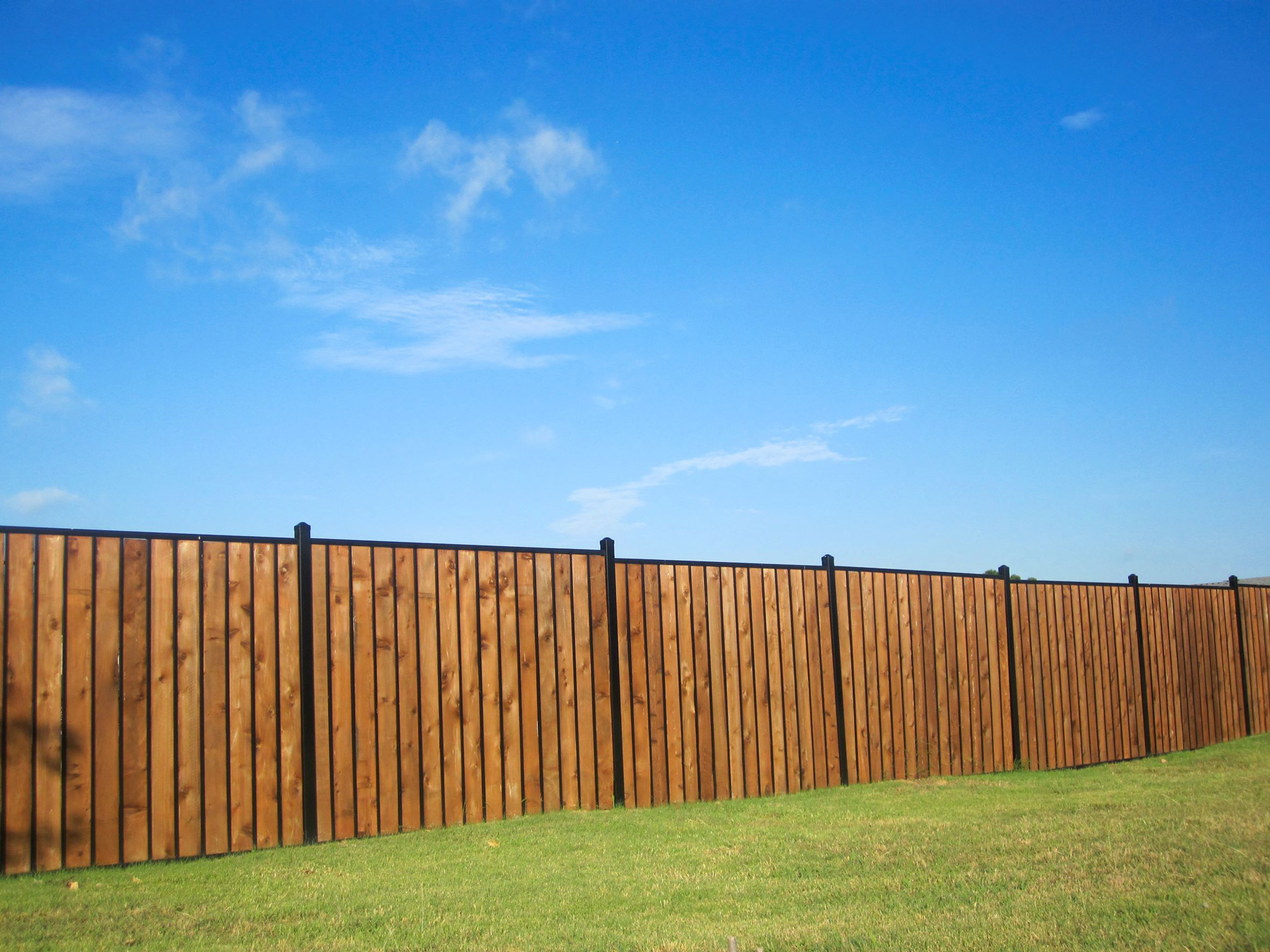 Steel fencing brings added strength
Steel fencing is the last stop for owners with dogs that are too strong for other fencing options. It provides open sightlines with the extra strength that large breed dogs such as Mastiffs or Great Danes might require.
Unlike traditional wood fencing, steel fencing is built to last due to its corrosion-resistant coating, providing homeowners and their pets a secure enclosure for years to come that won't be compromised over time by weathering.
Additionally, for the dogs that are triggered by seeing neighbors or other animals that are just out of reach, homeowners can customize their fence with wood or composite infills to balance strength and privacy. With easily replaceable pickets for simple maintenance, this is a solution many homeowners are happy to put into place.
Best for: Large breeds
Is aluminum fencing good for dogs?
Now consider aluminum fencing: a lightweight, easily installed and modern alternative. The rackable design adapts to terrains with up to 10 degrees of grade change, so there are no gaps for pets to slip through. This is particularly important for toy-sized breeds. While requiring less height to contain them, these dogs will be more likely to slip underneath a fence, making it critical for homeowners who live on uneven lots to ensure that the fence they choose is adaptable to the terrain that they live on.
While lightweight, aluminum fencing is also very strong. The rust- and corrosion-resistant panels also ensure that it stays in like-new condition for decades to come, so homeowners can rest assured their fence will keep their pets safe as they roam the yard.
Available in pre-assembled panels, this type of fencing is also cost-effective and DIY-friendly. The versatile design options allow for individuality to shine through while still providing a strong and secure enclosure for pets, which makes aluminum fencing ideal for dogs.
Best for: any size breed
Finding the right fence
In addition to safety, a pet-friendly fence should also contribute to the design aesthetics of the home and yard. With so many fencing style options from Fortress Building Products, there isn't a need to choose between style and security.
Aside from terrain adaptability, steel and aluminum fencing solutions from Fortress allow homeowners to personalize their fence with finishes, infills, varying panel styles, post tops and ornamental gates. For homeowners who want their yard to feel spacious, aluminum fencing offers open sightlines while allowing opportunities for touches of individuality such as the addition of non-toxic plants that can provide yard privacy organically.
Don't gamble with security
When it comes to a pet's security, there isn't any one-size-fits-all solution. Each pet will have its own specific needs that must be taken into consideration. No matter what type of dog, from Chihuahuas to Mastiffs, Fortress Building Products has a variety of options to match their needs and their homeowners design aesthetics, providing equal parts safety and style.
You May Also Like:
Your Questions on Aluminum Fencing Answered
Backyard Basics: Neighbor Friendly Yard Fencing
3 Outdoor Living Space Trends to Fall in Love with This Season