Deck stairs are a crucially important part of any deck system. They bear the responsibility of providing a safe, visually appealing transition to the outdoor living space beyond your deck's perimeter. Rather than treating them as an afterthought, consider these five deck stair ideas to take your outdoor living experience to the next level.
1. Go with composite decking for sure footing on your stairs
Composite decking has continued its steady growth in popularity, as more and more homeowners have recognized its clear advantages over traditional wood. After all, wood deck boards are susceptible to warping, cracking and splintering from moisture and UV damage—potentially creating a tripping hazard.
To ensure that you and your guests are on sure footing going up and down your deck stairs, it's important that they provide a uniform walking surface. Options like Apex® capped bamboo-PVC composite decking from Fortress Building Products expand and contract about 25 percent less than similar boards, providing a consistent, flat step. Plus, Apex received the highest possible non-slip rating in a third-party test, which means you can safely walk up and down the composite deck stairs with feet still wet from a dip in the pool.
2. Use a stair frame system to save time and sidestep safety concerns
Deck stair installation is notorious for being one of the most challenging and time-consuming parts of a deck build. Framing traditional wood deck stairs present many opportunities for miscalculations and requires multiple stringers, which adds taxing hours to the build process.
By using a ready-to-assemble steel deck stair system, you can save hours on your deck build and sideline serious safety concerns, like poor stringer-to-deck connections and inconsistent rises and runs. This level of innovation ensures your deck remains structurally sound, which means you can rest easy knowing family and friends are safe while on deck and navigating deck stairs. For added peace of mind, Fortress Building Products backs its Evolution steel stair system with a 25-year warranty.
To experience these benefits beyond your stairs and throughout your entire deck build, consider the advantages of framing your entire deck with steel. As the only complete steel deck framing system on the market, Evolution steel deck framing is the clear choice for fortifying your deck with the strength of steel.
3. Build a multi-level deck for next-level wow factor
Multi-level decks are on trend—and for good reason. As homeowners nationwide have joined in the wave of expanding their outdoor living spaces, many have taken to building their decks up as well as out.
Adding a second (or third) level to your deck will afford you more usable outdoor space and give you access to grander views of your surroundings. A more vertical orientation to your deck will also put greater focus on its stairs, so pairing a multi-level deck with some of the other ideas in this post is sure to bring your deck's wow-factor to the next level.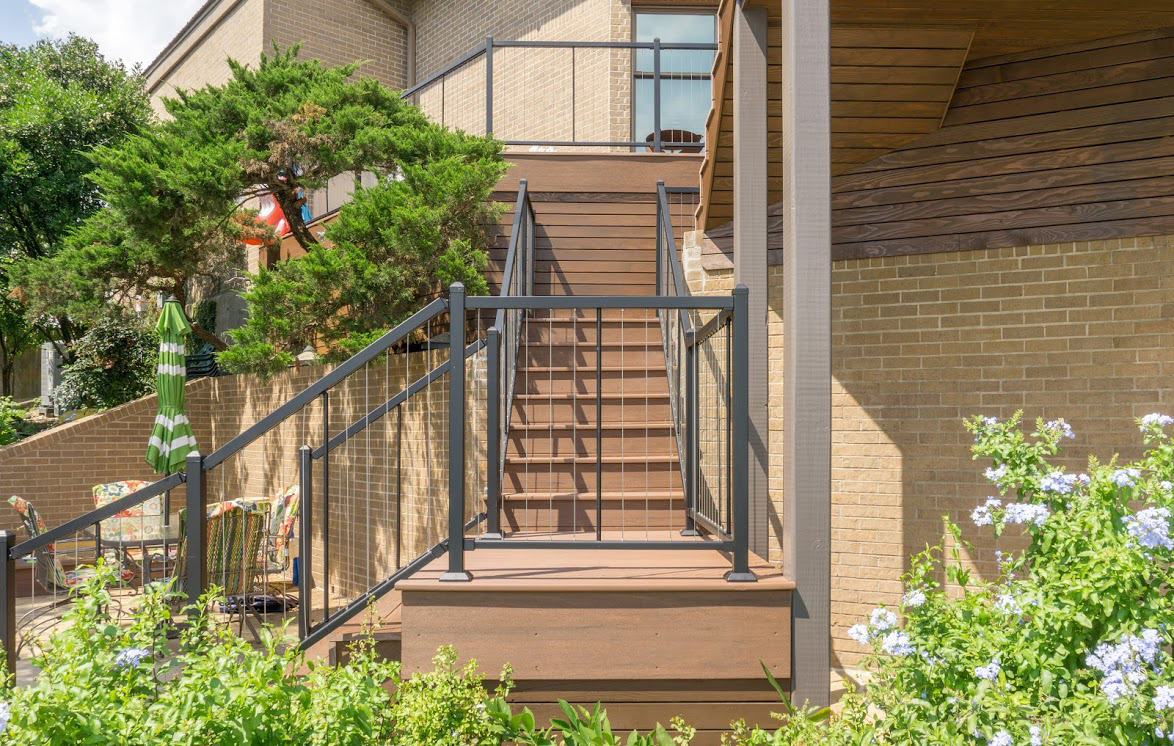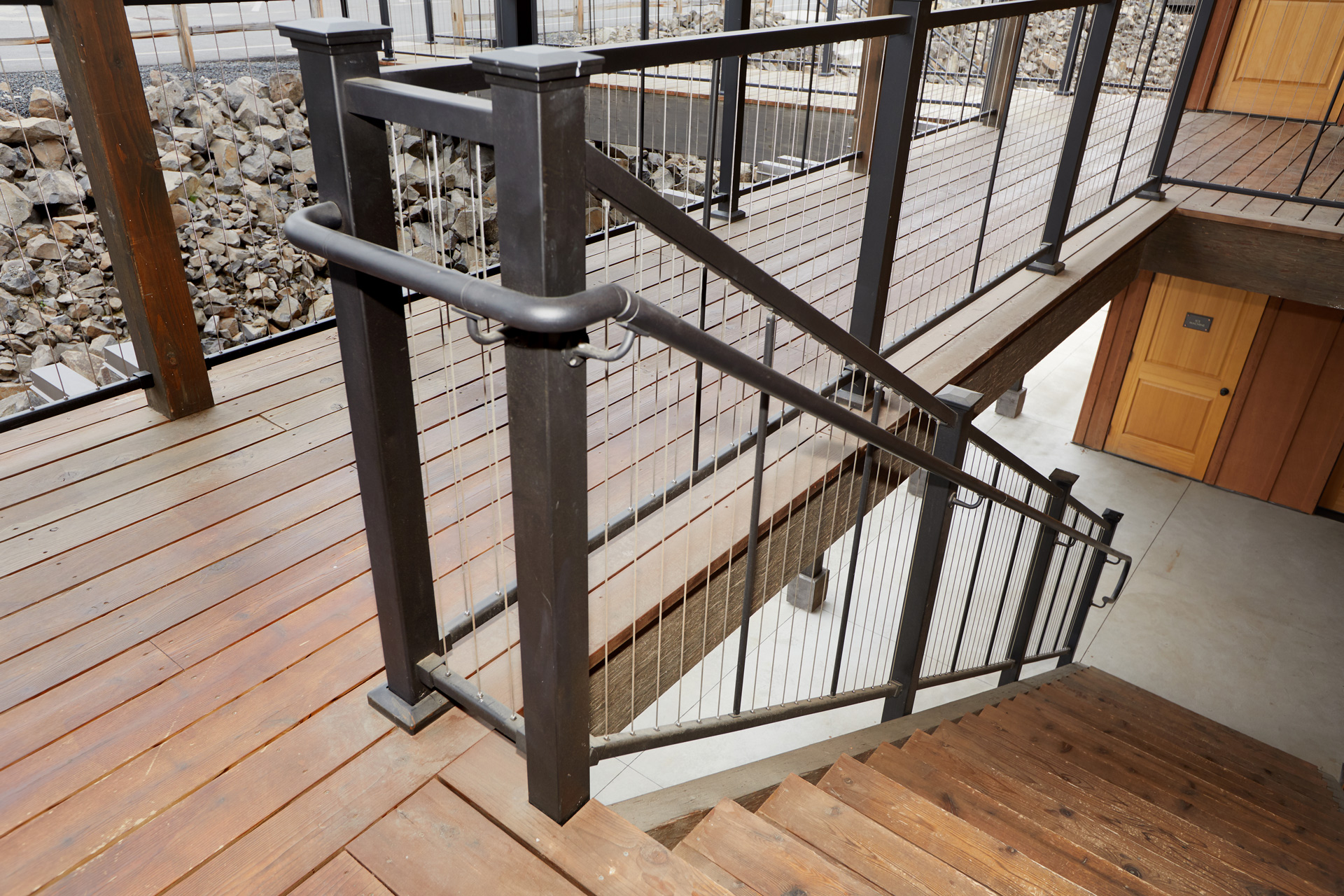 4. Light up your stairs with LED lighting accessories
A way to immediately bring a touch of elegance to your deck stairs is to install LED lighting accessories. By adding recessed deck lighting features or LED post caps to your stairs' railing system, you'll be introducing a high-end aesthetic while also increasing the deck's safety factor. The increased illumination reduces the risk of you or your guests taking a misstep in the dark.
5. Pair steel stair railings with a steel pergola
Deck stairs provide the transition from one area to another. This is true functionally, of course, but it is also true that stairs can provide the eye with a visual connection between two outdoor living spaces. To take advantage of the visual cohesion that can be achieved with deck stair design, look for opportunities to match complementary materials and/or design elements between your deck stairs and what they lead to.
A great way to enhance visual cohesion on your deck is to pair steel deck stair railings with a steel pergola. Their clean lines and industrial-style construction complement each other beautifully and will help bring intentionality to your deck's design aesthetic.
Take your deck stairs to the next level
If you're ready to turn your dream deck into a reality, carefully considering how to design your deck stairs is a great place to start. Fortress Building Products can help you accomplish that, with steel stair frame systems, bamboo-PVC composite decking, steel deck stair railings and more.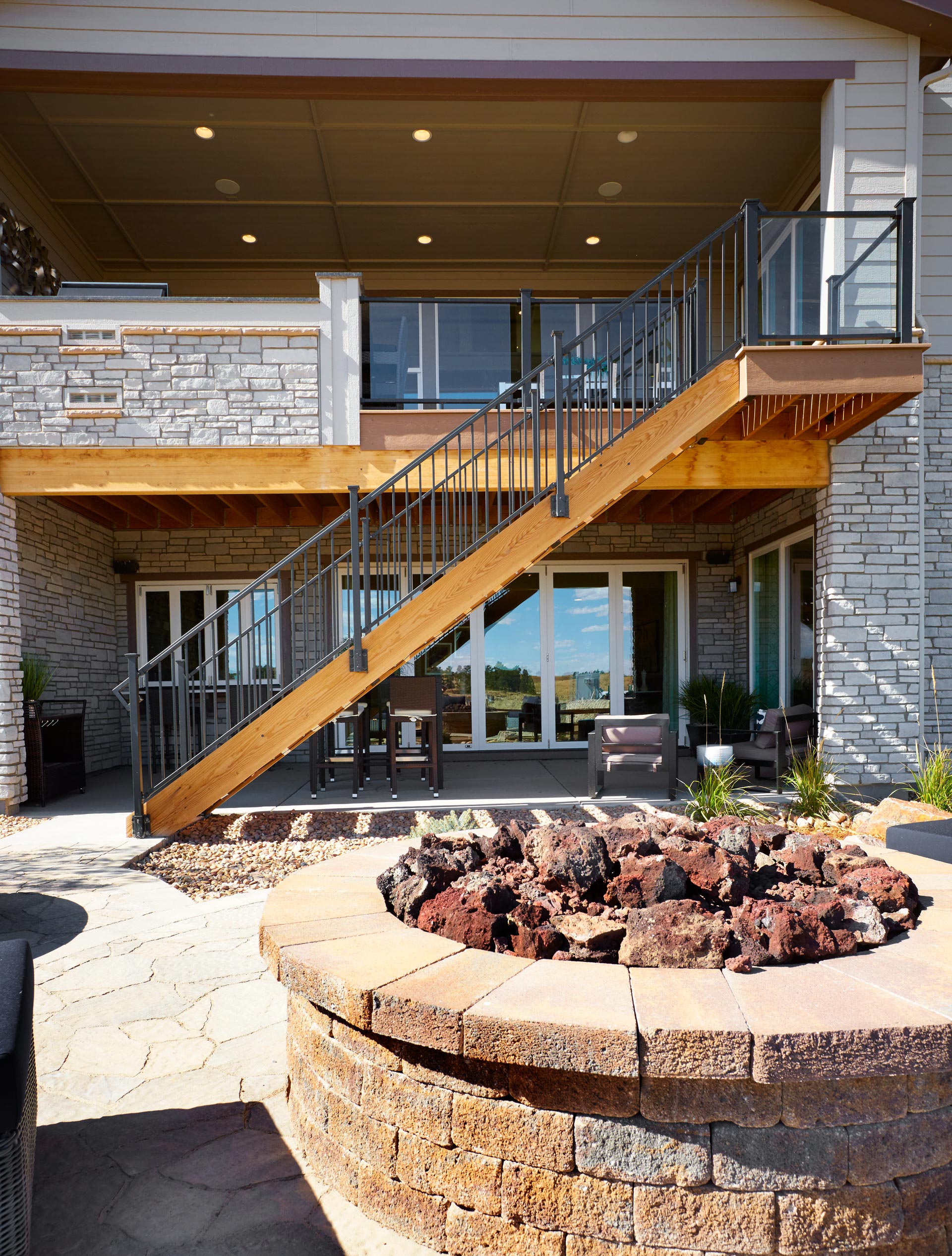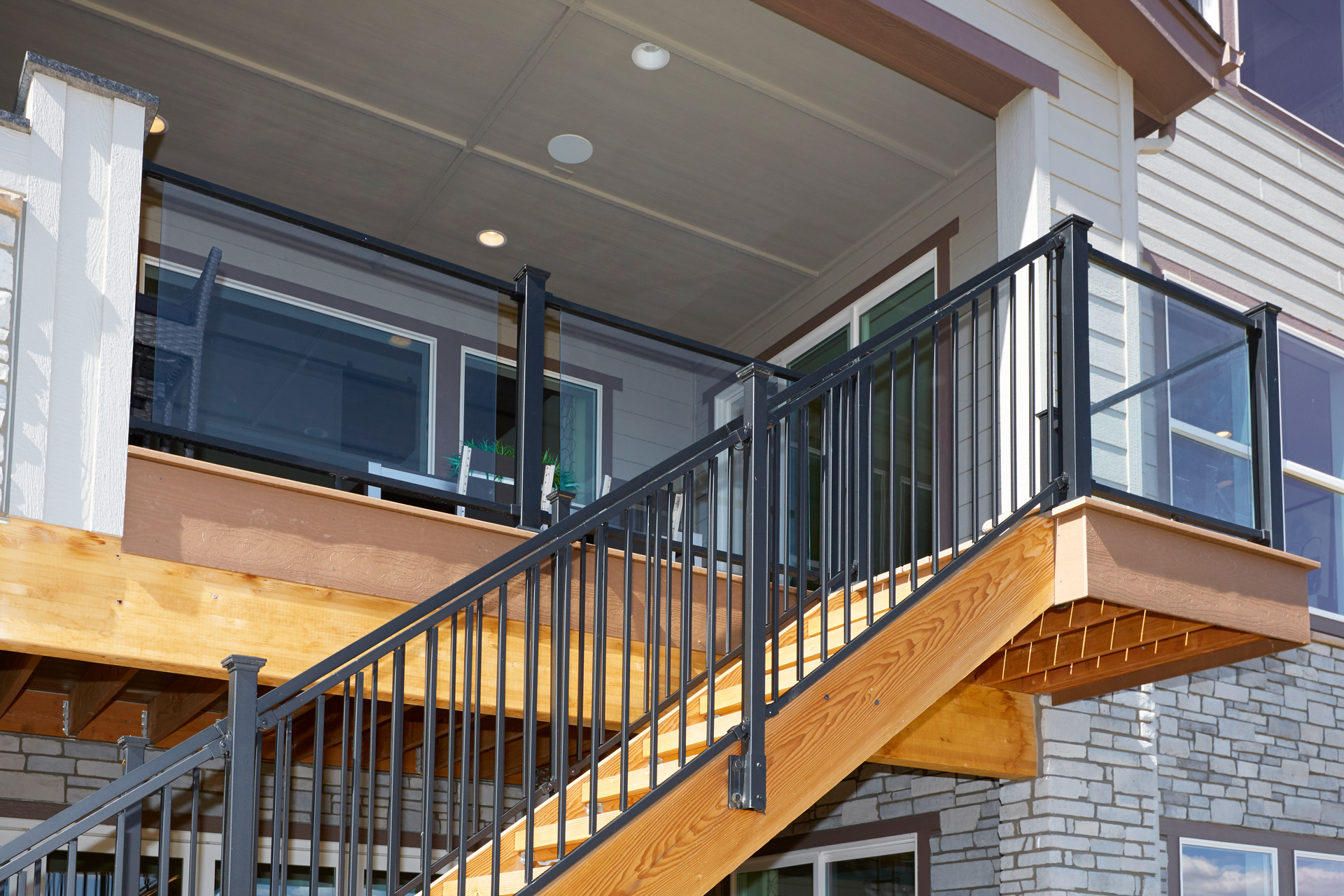 YOU MAY ALSO LIKE:
3 Deck Stair Ideas to Elevate Your Space
Deck Stairs 101: Why Deck Stairs Aren't as Complicated as You May Think