Curved deck framing is trending across the United States, and for good reason. The unique aesthetic, charm and functional benefits of a curved deck open up possibilities beyond those of a traditional, rectangular shape. Advanced decking materials—like steel framing—have sidelined many of the concerns that once prevented builders from offering curved decks as an option.
In this post, we will:
Share some of the unique benefits that curved decks offer.
Address some of the common concerns about framing a curved deck.
Suggest some great building materials that have revolutionized the decking game.
Help you know what to do next if you're considering adding a curved deck to your home.
Why a curved deck is a great option
Because most residential architecture is based around straight lines and 90-degree angles, curving a deck's framing will add a point of visual intrigue to any outdoor living space. But since natural formations rarely contain the perfectly straight lines that manmade architecture does, a curved deck frame can look and feel more like it belongs in its natural surroundings. As homeowners look out on their curved deck, its uniqueness also can create a draw effect. Its visually pleasing curves can encourage homeowners and their guests to spend more time on the deck.
In addition to its visual appeal, a curved deck offers many functional benefits as well. Framing a curved deck to contour it to the existing landscaping or plant-life around it is a highly practical benefit. This could save the homeowner money on not having to redo their existing landscaping, while also preserving their yard's appearance if that is a priority for them.
An outdoor seating area on a curved deck can encourage more interpersonal connection. Outdoor furniture on a traditional rectangular deck is often arranged so that people are seated at 90-degree angles from each other. But in a curved area, homeowners can orient seating so that everyone is facing toward one another, leading to more natural engagement in conversation.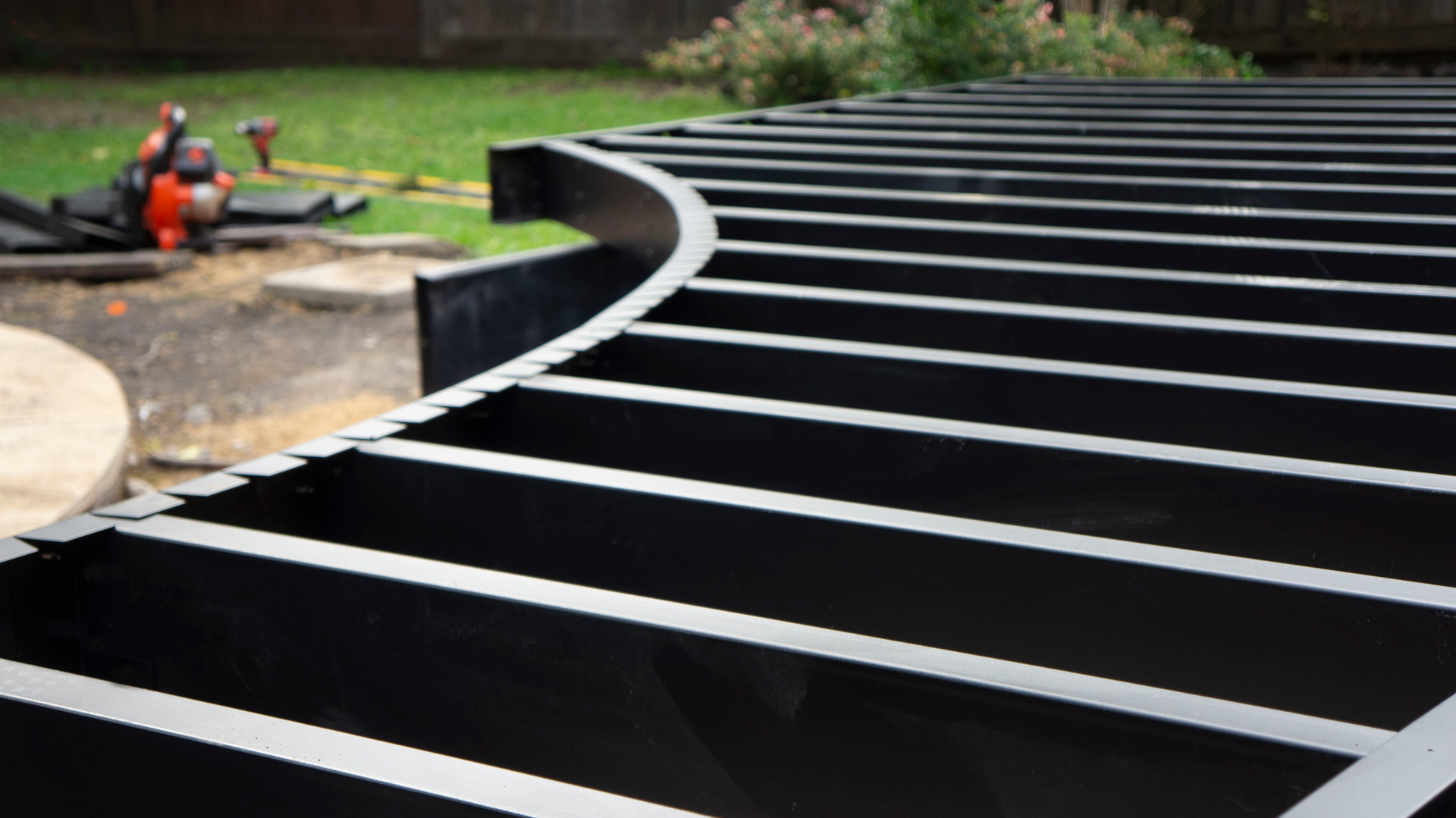 Addressing concerns about a curved deck
Many of the concerns about framing a curved deck center around the vulnerabilities of wood and the limitations of working with it. For example, when wooden framing is bent to contour to the shape of a curved deck, they can pop out of round within a disappointingly short timeframe after installation because their rigid composition wants to return to its original form.
Some wooden deck builders opt to make kerf cuts when framing curved decks. This process involves scoring the wood so that it conforms to the radius of your curve. These cuts make sealing the wood and protecting it from decay difficult, leading to premature aging.
Both in general and in these two examples, wood's weaknesses worsen when exposed to high amounts of moisture, such as in rainy or humid climates. Alternative materials can frame a curved deck easily and stand up to threats of high moisture.
Curved deck framing is easier with steel
Thankfully, with advances in steel, framing a curved deck that is visually stunning and reliably long-lasting is more feasible than ever. Steel deck frames are rising in popularity thanks to their exceptional lifespans, fire resistance and imperviousness to warping or rotting. Rot resistance is especially important in the case of curved deck framing. As wood deck frames are often curved by laminating multiple thin layers together in curved forms, the surface area that is vulnerable to rotting is multiplied—along with the potential for the frame to become unstable for the deck above.
Some steel deck framing—like Evolution from Fortress Building Products—includes the option of a curved rim joist. This hardware can be used any time there's a radius on the rim of a deck. It is perfectly suited for framing a curved deck, as you can bend the curved rim joist by hand without any need for special tools or heating elements. You don't even need to angle cut the joists at the rim.
Are you a contractor or experienced DIYer, ready to equip yourself with the best materials to install a curved deck? Click to learn more about the strength of steel deck framing from Fortress®.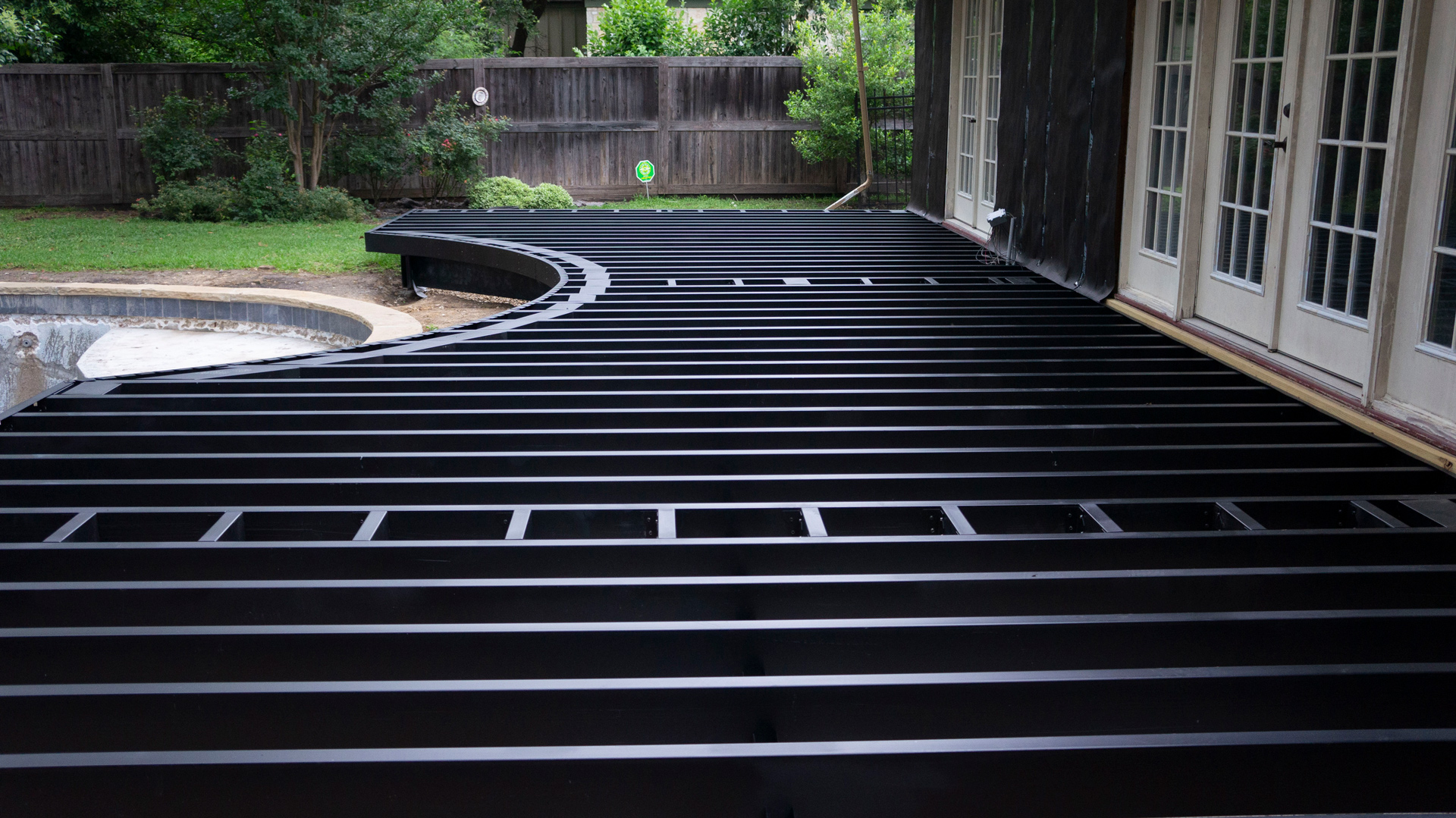 YOU MAY ALSO LIKE
CURVED DECK RAILING IDEAS THAT DON'T REQUIRE A CUSTOM SYSTEM
HOW TO FRAME A DECK WITH STEEL: YOUR TOP QUESTIONS ANSWERED
3 OUTDOOR LIVING SPACE TRENDS TO FALL IN LOVE WITH THIS SEASON