Each year, the North American Deck and Railing Association's (NADRA) National Deck Competition highlights some of the latest and greatest deck design trends. With a host of categories and hundreds of entries, the top finishers in this competition push the boundaries of what can be achieved with top-quality materials and expert craftsmanship.
When it comes to deck railing, this competition showcases inspiring examples of what's possible in your outdoor living space.
So, what's the latest in deck railing trends? Read on to find out.
Upgrade to steel railings for classic style and increased durability
Installing metal railings can add a clean, classic appearance to a deck. They're also a great option for replacing wood balusters and posts with something more durable, especially if you go with railings made of galvanized steel and finished with premium powder coating.
For personalized metal railing infill panels that make a statement, the new Fe²⁶ Axis horizontal infill from Fortress Building Products combines the unmatched strength of steel with a cool, sought-after modern design. The sleek horizontal infill panels bring a modern aesthetic to both indoor and outdoor living spaces. Plus, posts with pre-attached brackets are available for easy installation and backed by a 15-year warranty for peace of mind.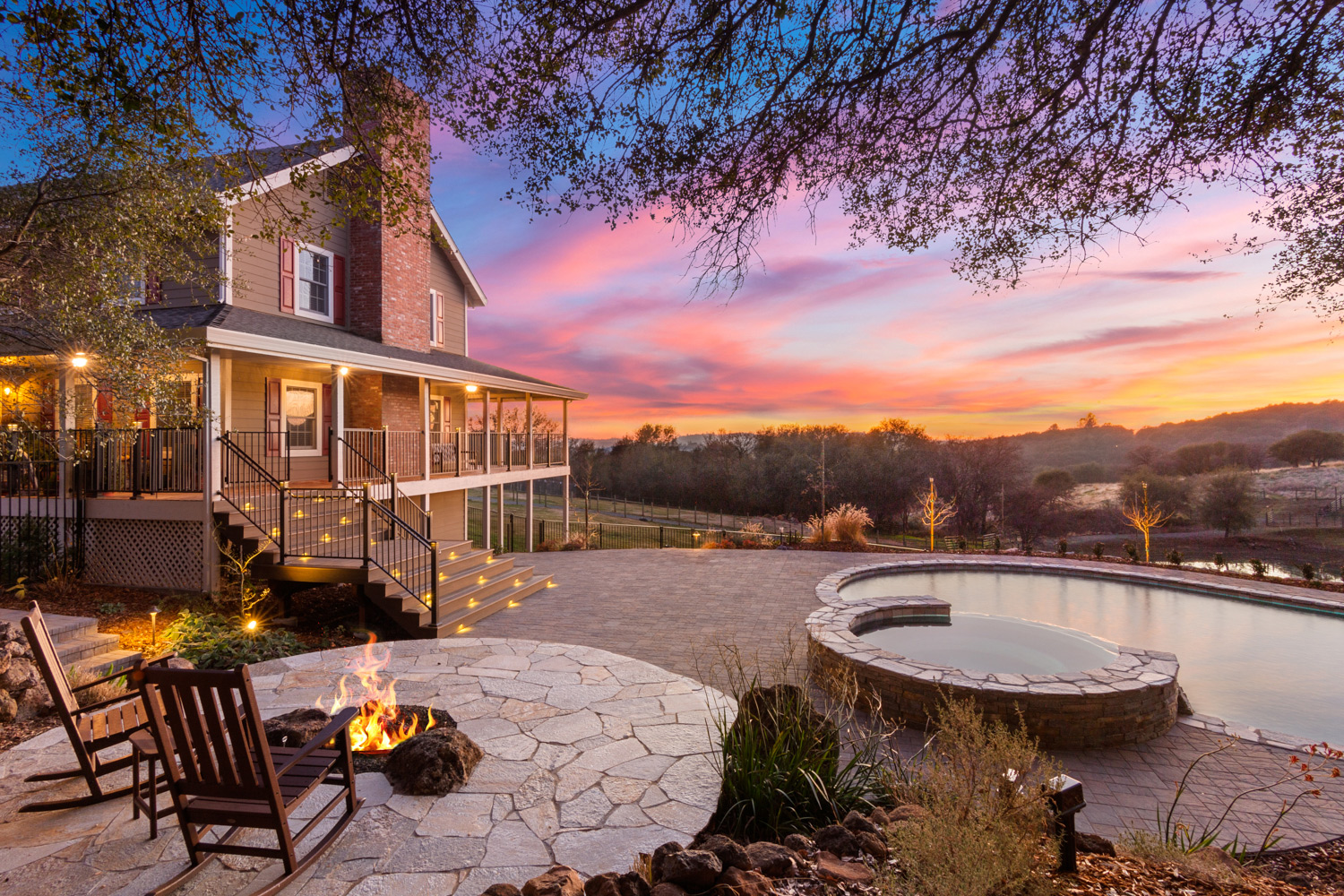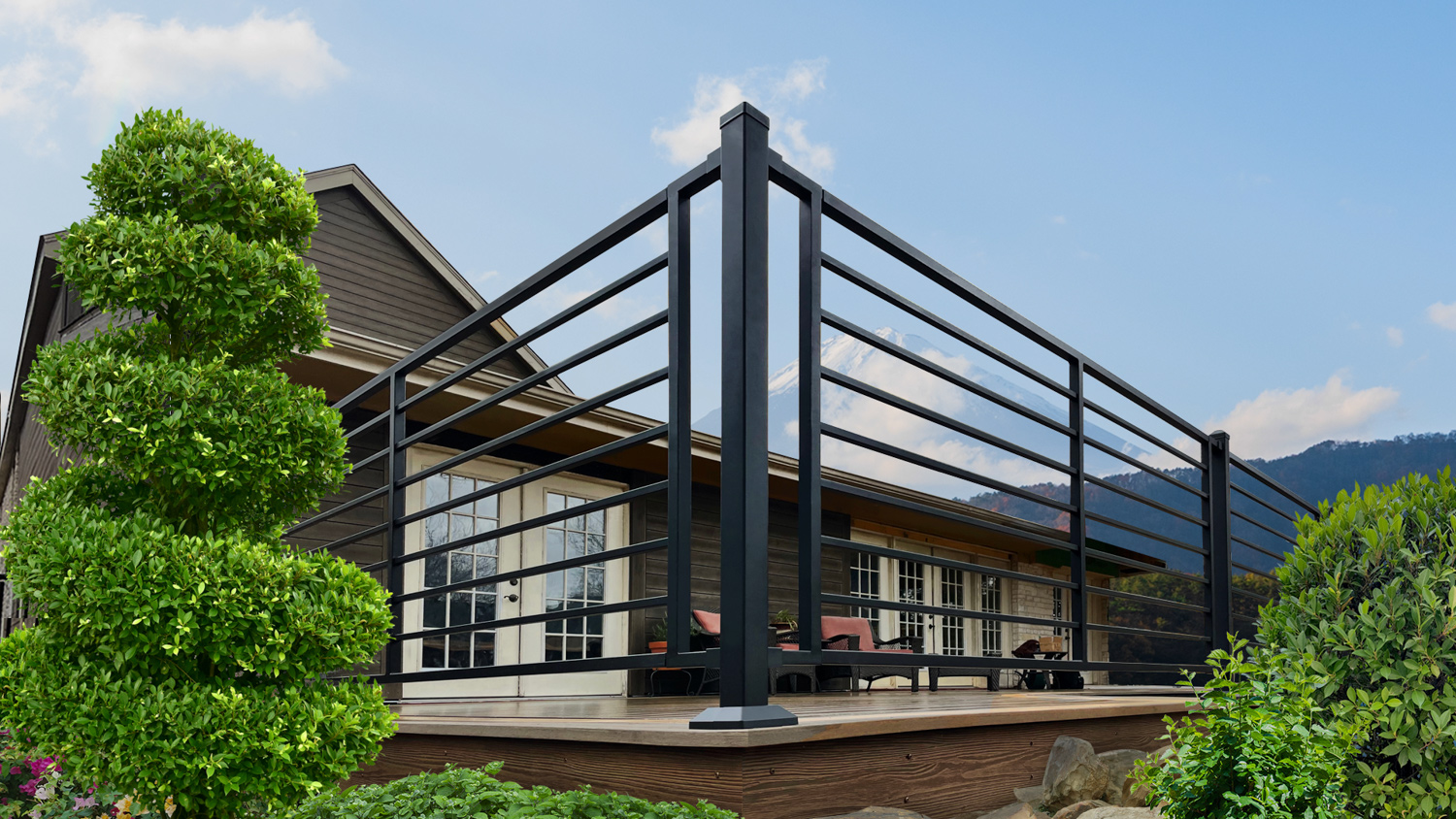 Pure views and easy maintenance make glass railings a clear choice
One of the hottest trends in deck railing, glass railing can add subtlety and elegance to a deck with their ultra-modern, minimalist aesthetic.
The unlimited visibility that glass railings offer allows you to take full advantage of pleasant outdoor views. Plus, they are easy to maintain. Standard glass cleaner will keep them looking clean and new for many years.
Marine-grade cable deck railings meld form and function
Cable railings are another trending deck design option that present many unique benefits. Made with 316 marine grade stainless steel, they can offer a distinctive industrial aesthetic that is extremely durable and easy to maintain.
Whether oriented vertically or horizontally, cable infill panels preserve your deck's views with minimally obstructed sightlines. They also let breezes through, which can help make the time on your deck an enjoyable multisensory experience.
Select brands offer pre-tensioned cable infill panels, so concerns about the difficulty of installation are a thing of the past.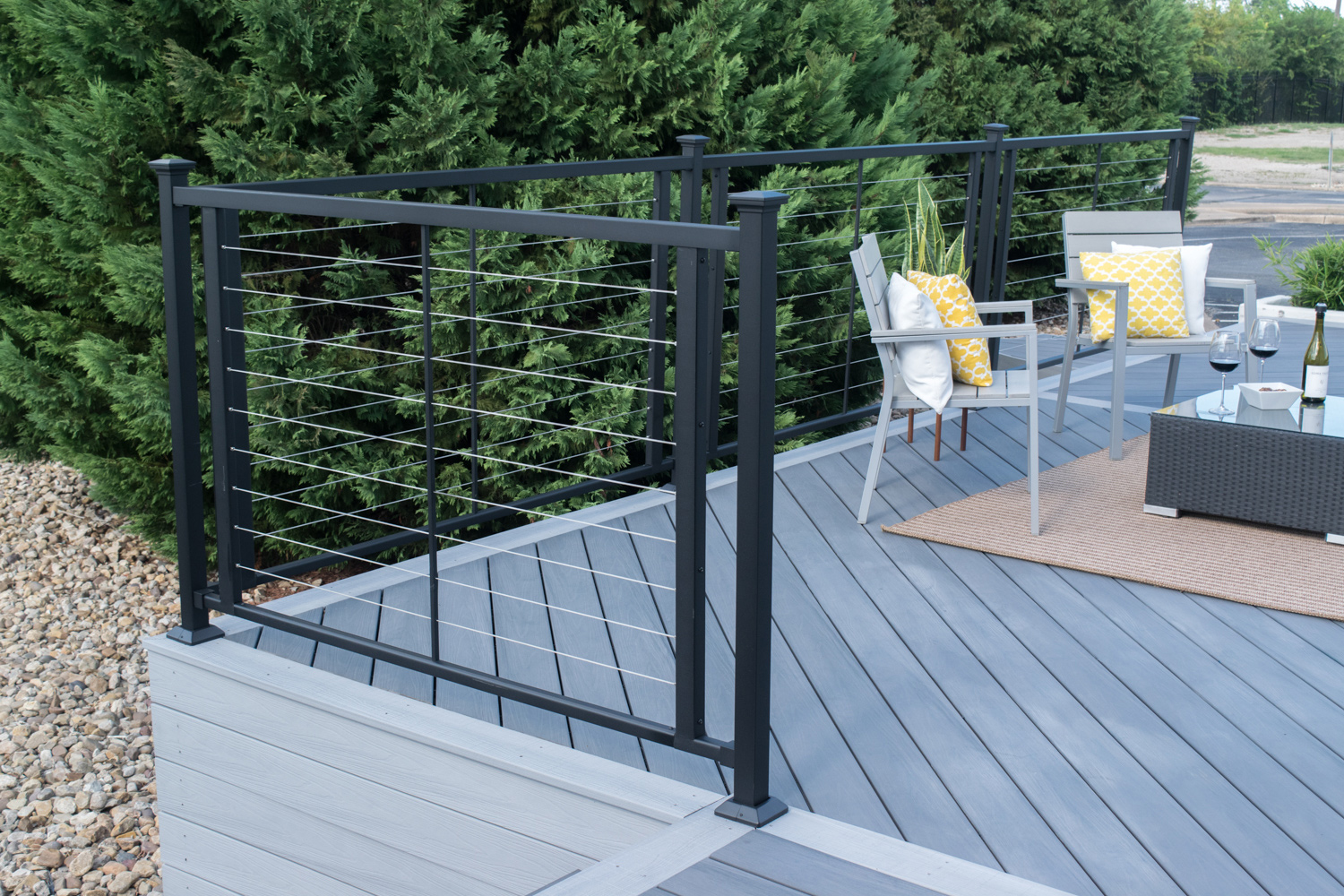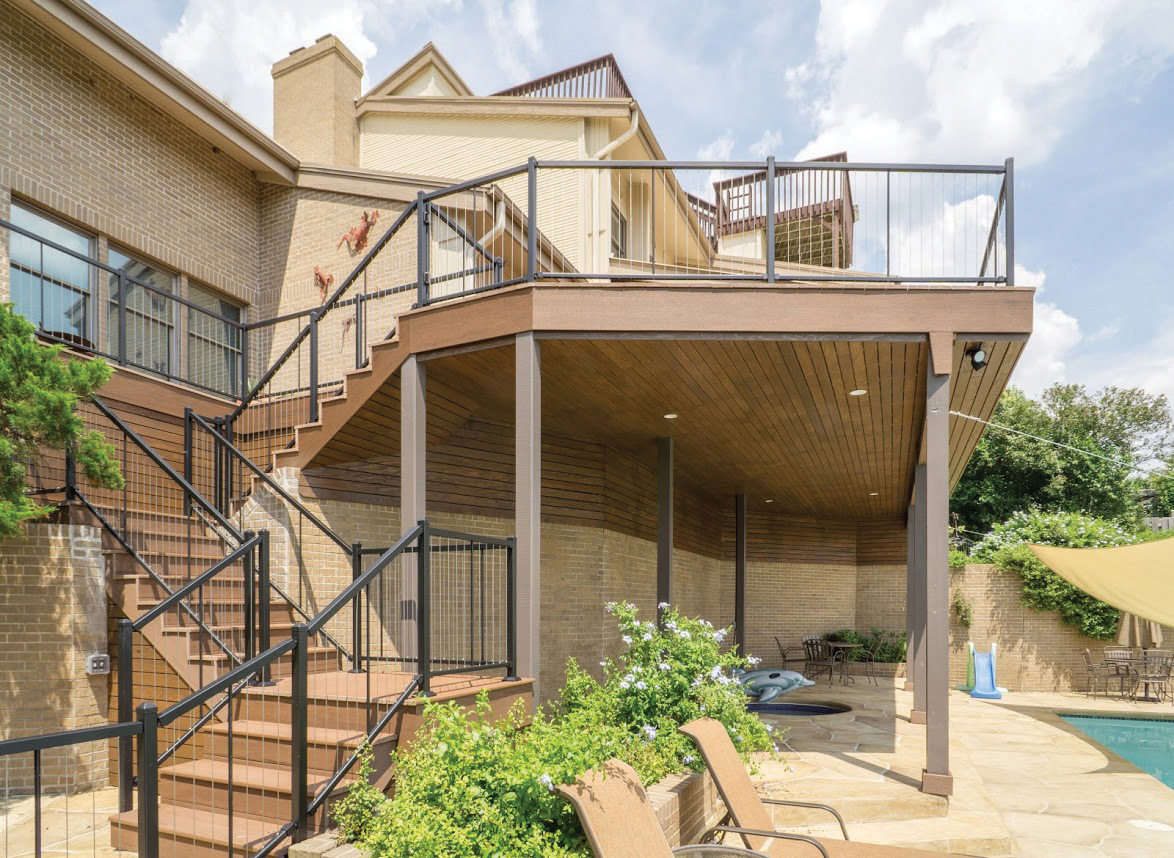 Pair your rail with complementary elements for a unified outdoor experience
Both trendy and timeless, pairing deck railing with another design element brings visual cohesion to any outdoor living space. As an example, you could match the sleek lines of black steel railings with the ultra-modern industrial look of a steel pergola.
The two products—though different in function—can transform a disjointed deck into a visually cohesive outdoor living space.
Let your railing shed some light on your deck
A trend that's illuminating decks across the country, incorporating a lighting-compatible railing extends the usability of your deck. Strategically placed light fixtures can improve a deck's ambience, bring a sense of warmth and illuminate your outdoor living space.
To cast an inviting glow across the surface of your deck, you can dress up a deck's railing posts with energy efficient lighting. By opting for an LED glow ring or LED Cap Light Kit, you can significantly increase the functionality and visual appeal of your deck while spending very little on energy costs.
Get Inspired to Create Your Own Dream Deck
Styles change. For upgrades and new projects alike, taking inspiration from NADRA's National Deck Competition winners can keep you current on best practices and what the newest trends in deck railing are.
Whether you prefer the clean lines of steel railing, the ultra-modern look of glass panels or a different option, expressing your personal style with your deck railings can be a fun, rewarding experience.
Ready to get started? Find your perfect deck railing on FortressBP.com.
You may also like:
Trend Alert: The New Wave of Porch Ceilings
5 Deck Railing Ideas to Inspire You
DIY Glass Railings: Installing a Glass Railing on Your Deck is Easy