Whether renovating an outdoor living space that's seen better days or hiring a contractor to build a deck from scratch, homeowners must first decide – Which deck boards are best for the job?
For years, wood was the obvious (and only) option available. All homeowners had to decide on was which species to use. However, in the last few decades, innovations in technology have produced a wave of deck boards that blend form and function. Composites with nonrepeating grain patterns and PVC decking with the beautiful look of tropical hardwoods now line the outdoor living aisles. With all of today's options, it can be hard to know which one to put into the cart. Thankfully, the process doesn't have to be complicated. Use these six questions to get on deck with the right material.
How will the deck boards be used? This is one of the most important questions to answer before making a purchasing decision. Different types of activities demand different levels of performance underfoot. Identifying the deck's purpose upfront will help ensure the selected material is up to the job. Will the deck boards encircle a pool or hot tub surround? If so, consider slip- and splinter-resistant PVC decking to safely allow bare feet to jump in and out of the water. Or, will the deck boards need to withstand heavy foot traffic, frequent spills and the shuffling of outdoor furniture at dinner parties? Homeowners of these frequent backyard soirees may want to consider a durable, scratch-resistant wood-alternative that is designed to withstand years of wear and tear.
Can the decking withstand the elements? Rain or shine, the outside environment is one of the most telling factors when determining decking. Deck boards that spend hours under the scorching sun can crack and fade. On the other end of the spectrum, decking with extended exposure to moisture can rot and warp. Selecting deck boards that can withstand these harsh conditions is critical to ensuring lasting style, but it is often much easier said than done. Wood decking is susceptible to deterioration if it's not maintained regularly and correctly. Composites and PVC decking can serve as great alternatives, but not all offer the same level of performance.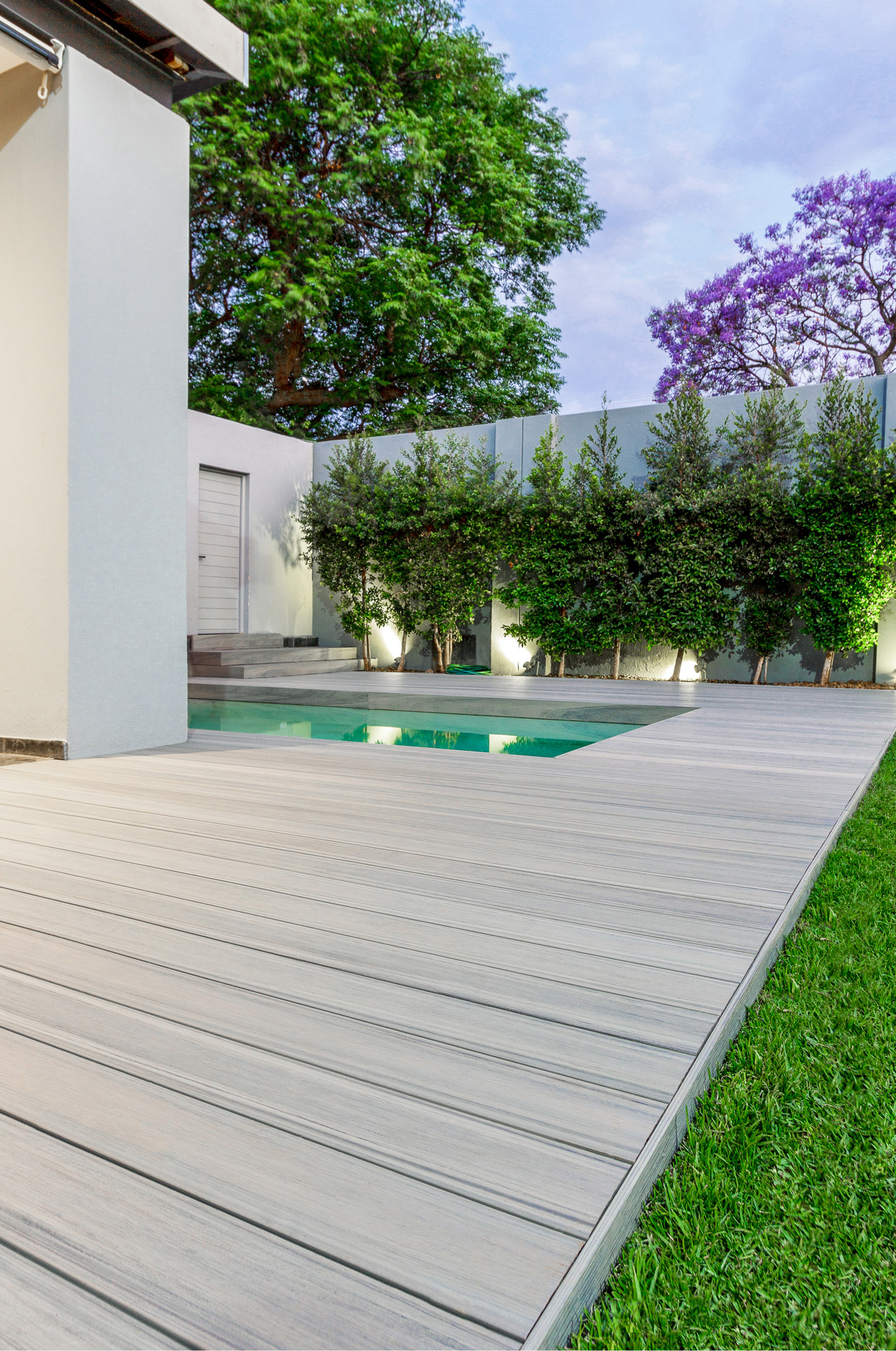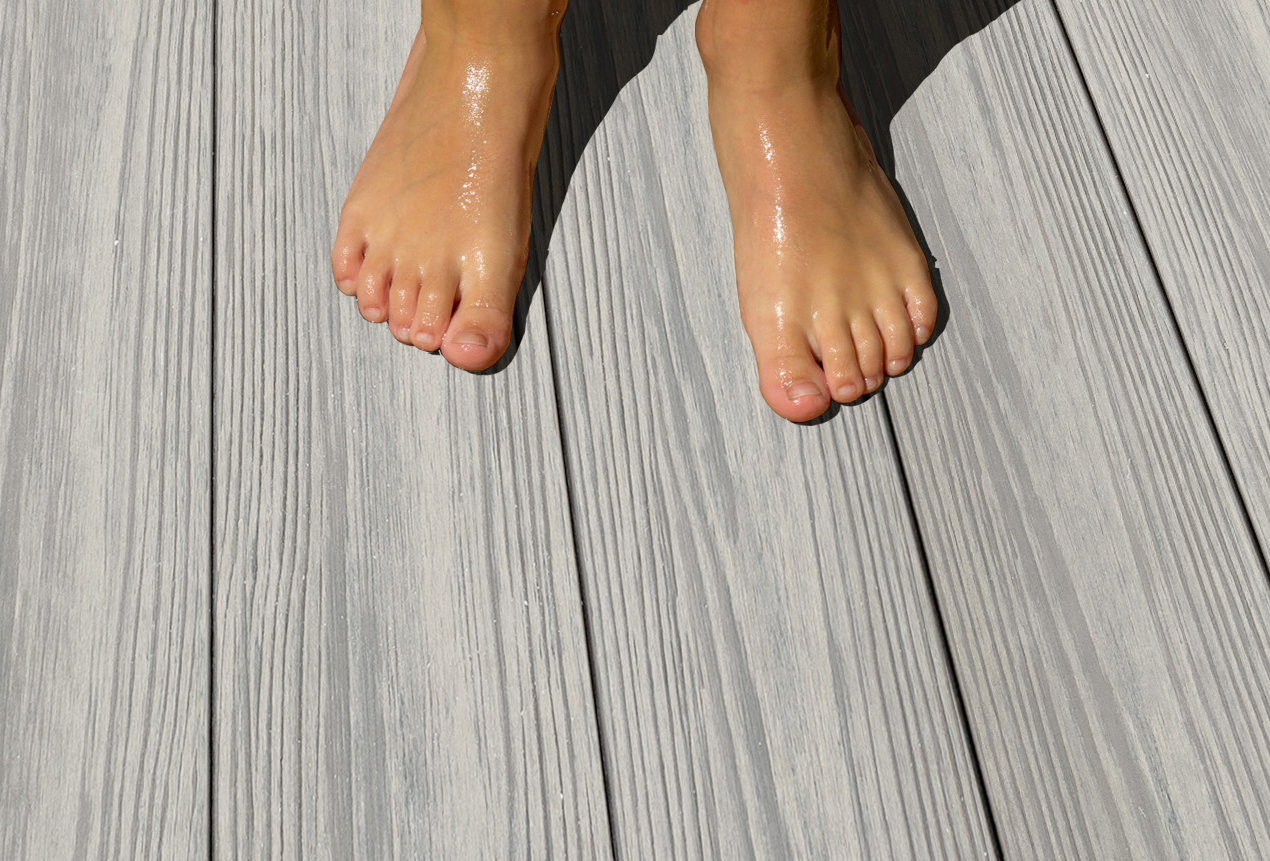 To find decking that can withstand whatever Mother Nature throws its way, homeowners should look to manufacturers who design boards specifically for the rigors of tough climates. For example, composite deck boards encapsulated with a high-grade polymer cap provide enhanced protection against weather, stains and scratches. This added layer of performance may seem minor, but it ultimately extends the lifespan of decking.
What type of aesthetic should the deck boards bring to the table? Selecting a deck board is more than an evaluation of a material's performance—it's also an opportunity to pack personal style into a backyard retreat. And with today's offerings, from composites to exotic hardwoods, homeowners can mirror their home's existing architecture to create a seamless extension of their living space.
For homeowners that still want to embody a traditional wood-like aesthetic without the hassle of upkeep, consider PVC decking. Some of today's manufacturers utilize a proprietary tri-extrusion process that lends itself to the beautiful look of rich, tropical hardwoods. Boards feature a dual-embossed grain with a slightly raised surface to resemble the texture of natural wood. With these advancements, homeowners can achieve the material's appeal, without the unwanted quirks of fading or deck deterioration.
What's the budget? Building a deck is an investment, so determining where and how much money to spend is crucial. When budgeting for the deck boards themselves, consider this advice from decking professional, Toby Bostwick of Fortress Building Products:
"First, what's the cost of paying the cheapest price for a decking material, but not loving the look of the finished product? And second, what's the cost of loving a decking product at the point of purchase, but later realizing it doesn't perform well long-term?"
Toby's words of advice shed light on how the cost of a product entails more than the initial price tag. What does this mean for the deck board budget? It should reflect a dollar amount that allows homeowners to balance both looks and performance—now and in the future. If determining the budget for deck boards still looms as a chore, gain more insight into this topic here.
How much maintenance will be required? Few things put a damper on a sunny weekend quicker than the need to perform dreaded deck maintenance. So before settling on decking, create a realistic expectation of what is required to keep deck boards in top-notch shape. For homeowners who would rather spend more time kicking back on their Adirondack chair than on upkeep, consider high-performance composite or PVC deck boards. Users of these decking alternatives can create a beautiful, low-maintenance scene free of annual painting, staining or sealing. Better yet, since a growing number of these products capture the real look of wood, there's no need to compromise on style for the sake of reduced upkeep.
What does the product warranty offer? Not all warranties are created equal. Before deciding on a particular deck board, read the warranty Look for brands like Fortress® that stand behind their composite and PVC decking with impressive 25-year warranties. The extended warranty should cover the product's appearance and performance.
With these questions tucked into their back pocket, homeowners will be better prepared to pull the trigger on a deck board when it comes time for a renovation or a new build. For more information, visit FortressBP.com/decking.