You can't put a price on backyard fun. You can, however, put a price on the backyard pool you're dreaming of after spending a summer in the sweltering heat. On average, in-ground pools come with a steep price tag, with costs ranging from $30,000 to $50,000. With so much money on the line, shouldn't you select building products that support and defend your investment? We think so.
When considering factors such as safety and longevity, highly trafficked areas, like a pool surround deserve special attention. Durable materials like concrete have been a common choice for pool applications in the past, even though they can be hot underfoot, drab in color, dangerously slippery and can crack over time. For a safer and more resilient pool deck surface, seasoned builders and DIYers are turning to wood-alternatives such as composite and PVC.
Are you ready for a splash course in all things pool decking? Keep reading for our tips on getting started.
Opt for low-maintenance.
Composite decking solutions offer several advantages to minimize maintenance. Its moisture-resistant properties, for one, offer protection from the effects of weathering. To further its low-maintenance crusade, Fortress® designs boards with an innovative I-beam shape to enhance ventilation. This geometric design allows for more breathing room between individual boards and reduces damage from moisture accumulation.
Synthetic decking is, by nature, a low-maintenance solution for a pool deck. Unlike wood deck owners, you won't be spending weekends sealing, painting or staining this fall. Period.
Mitigate risks with a slip-resistant pool deck material. To reduce slip and fall risks in your own backyard, opt for a pool deck material that boasts a high slip-resistance rating.
Slip-resistance is assessed by a third-party testing facility and quantified by ratings. The Wet-barefoot Inclining Platform test, for example, is a ramp test that involves bare feet and soapy water. This assessment measures the risk of a barefoot person running around wet surfaces at a 24 degree or greater incline.
To achieve a stellar slip-resistance rating, PVC deck boards use an acrylic resin cap with a slightly "grabby" surface to provide enhanced levels of friction. These resin caps also include antimicrobials that deter bacteria or algae growth (common causes of slippery pool surfaces).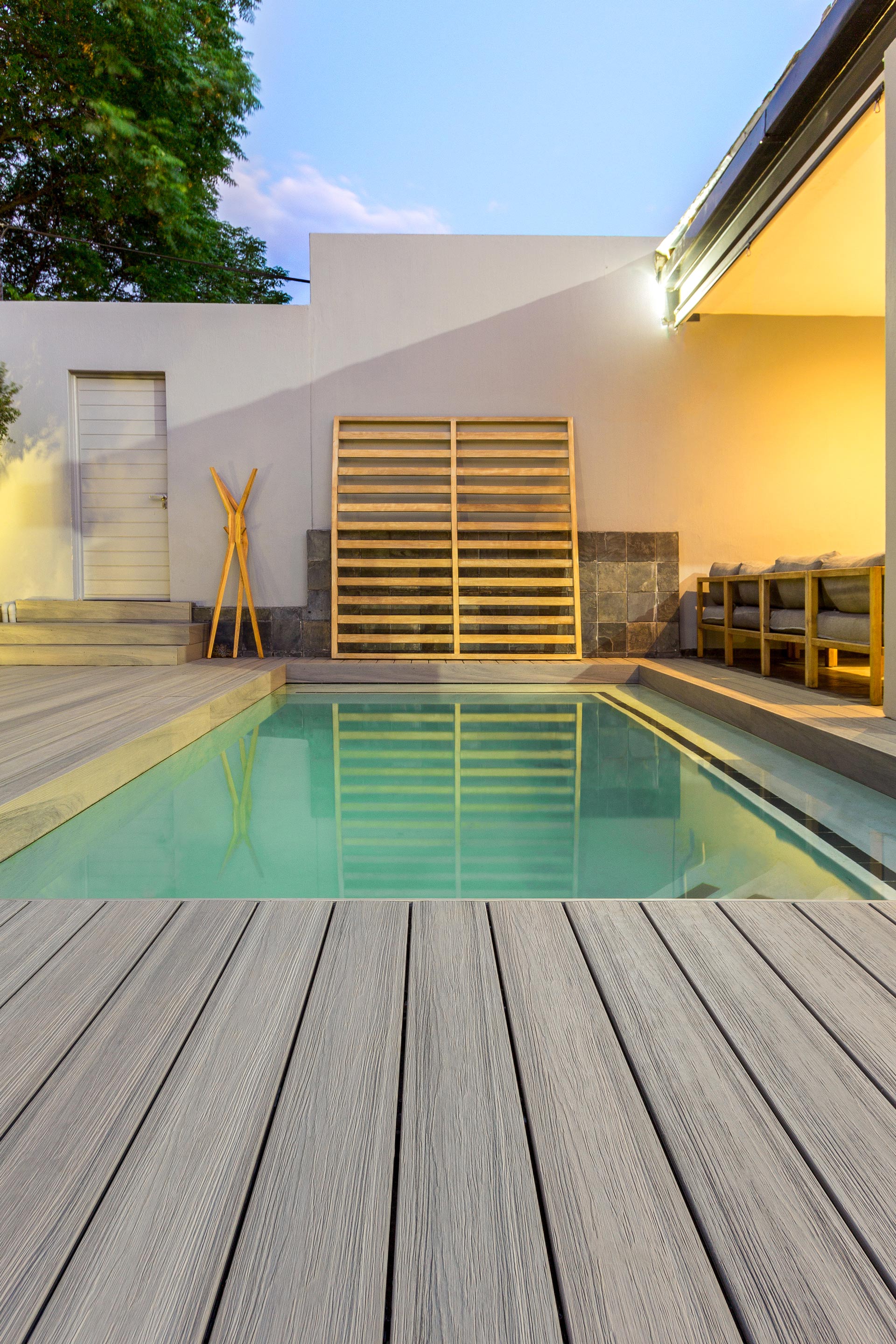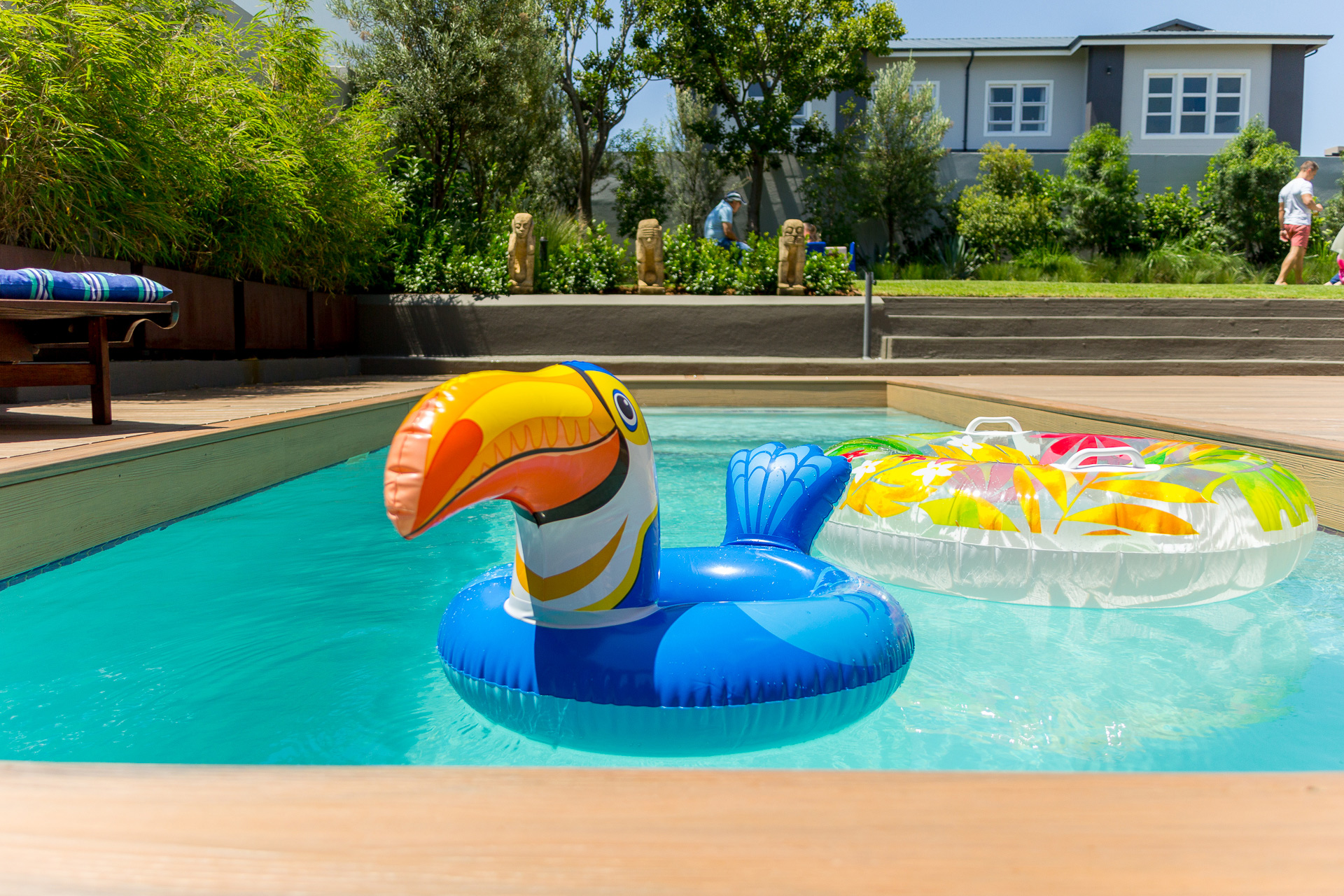 Choose a pool deck board that offers protection from harmful rays. While sunshine is especially enjoyable during an afternoon dip, UV rays will dry out the cellular structure of traditional wood deck boards. With increased exposure to sun, the once rich, brown hues of lumber can quickly give way to drab, weathered greys.
Select decking manufacturers address this issue by encapsulating each individual board in an acrylic polymer, formulated with UV inhibitors and antioxidants, that act as "decking sunscreen." Using acrylic polymer formulations to provide a barrier between UV rays is extremely effective, and offers added benefits such as high gloss, color retention, durability and the ability to transmit water vapor more efficiently.
And speaking of sun-drenched days, composite manufacturers have made strides in deck surface technology for cooler temperatures underfoot. Improved heat dissipation, for example, is one proven way to reduce board temperatures, allowing for comfortable toes (and paws).
Choose a pool deck material that looks like wood (but isn't).
Thanks to today's advanced manufacturing processes, lumber-alternative decking products can achieve what seems like infinite variations of grain patterns. And with this ingenuity, deck boards can emulate the warmth and beauty of a natural wood grain. The icing on the cake? Today's alternative pool deck materials resemble their lumber counterparts, but are engineered to be heat-,moisture-, fade-, stain- and weather-resistant. With these impervious qualities, they will stand the test of time, even after years of heavy foot traffic.
Invest in peace of mind.
Ready to take the plunge and bring your dream backyard pool to life? Turn to Fortress Building Products for the ultimate pool deck materials. Our tried and true wood-alternative decking products, including our Infinity I-Series composite decking and Apex™ PVC decking, will provide you with peace of mind. They're not only beautiful, but also designed to withstand years of splash-worthy fun in the sun. Learn more at fortressbp.com/decking.
Pro-tip: Don't forget the railing! Enclose your pool surround with a polished railing solution that blends form and function. Our high-end residential aluminum railing comes with an array of infill options to add personality to your outdoor living space. Plus, our sleek finish options offer more than just flair, each is engineered to withstand harsh climates.