Cladding, a building's exterior skin, provides a first impression and gives a glimpse of its character. From towering brick and metal structures to remote wood-clad hideaways, cladding lends to a building's contextual relevance, curb appeal and protects it from the elements.
Since cladding both defines the look of a building and interfaces with the outside world, material selection is key. It can be the difference between an exterior that weathers and fades in just a few years or provides lasting style for years to come. PVC and composite cladding are two new alternatives designed to sidestep shortcomings associated with natural wood cladding, which is prone to fade, warp and rot over time. With proper specification, these wood alternatives can capture the true warmth and beauty of wood and last for decades.
Since not all PVC and composite cladding boards are created equal, here are five characteristics to look for when selecting high-design, low maintenance composite and PVC cladding.
Captures the true warmth and beauty of wood: While composite and PVC cladding boards are engineered to outperform wood, it's important to select products that are thoughtfully designed to look just like it. Advanced manufacturing techniques in co-extrusion and like dual embossing, reveal realistic grain patterns and deliver the beauty and richness of tropical hardwoods. Look for products with non-repeating grain patterns and enhanced wood grain textures to create a wood emulating exterior.
Features an eco-friendly composition: To support green building initiatives, turn to responsible manufacturers that thoughtfully consider product composition and utilize renewable resources. Two examples of readily available, renewable alternative cladding building materials to consider include bamboo and post-consumer recycled plastic. Because bamboo grows 30 times faster than wood and is naturally hydrophobic and hydrophilic, it's the ideal organic material to pair with plastic being diverted from landfills. Bamboo-based composite and PVC cladding products are also typically free of toxic chemicals and preservatives normally used for the treatment of natural wood cladding.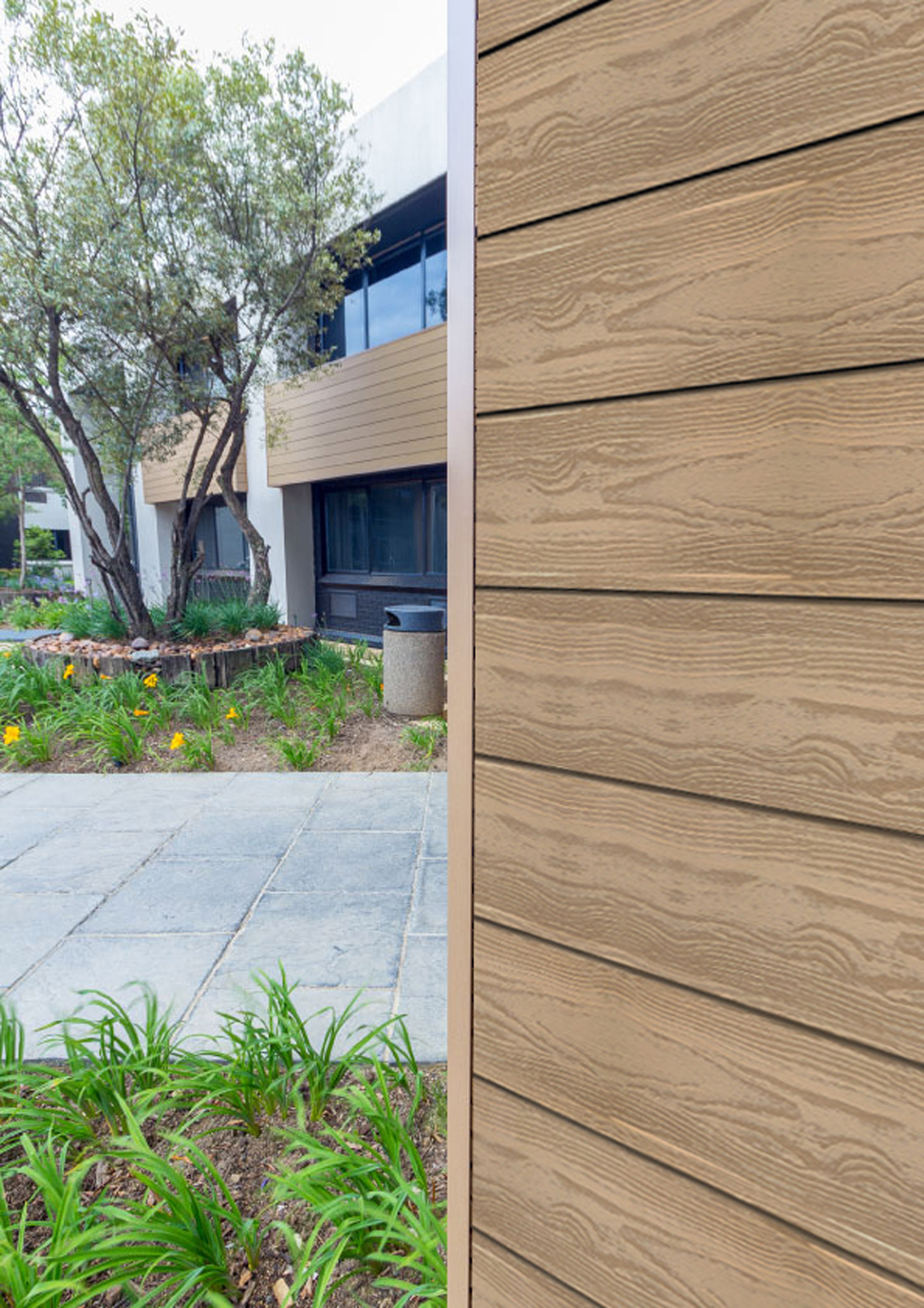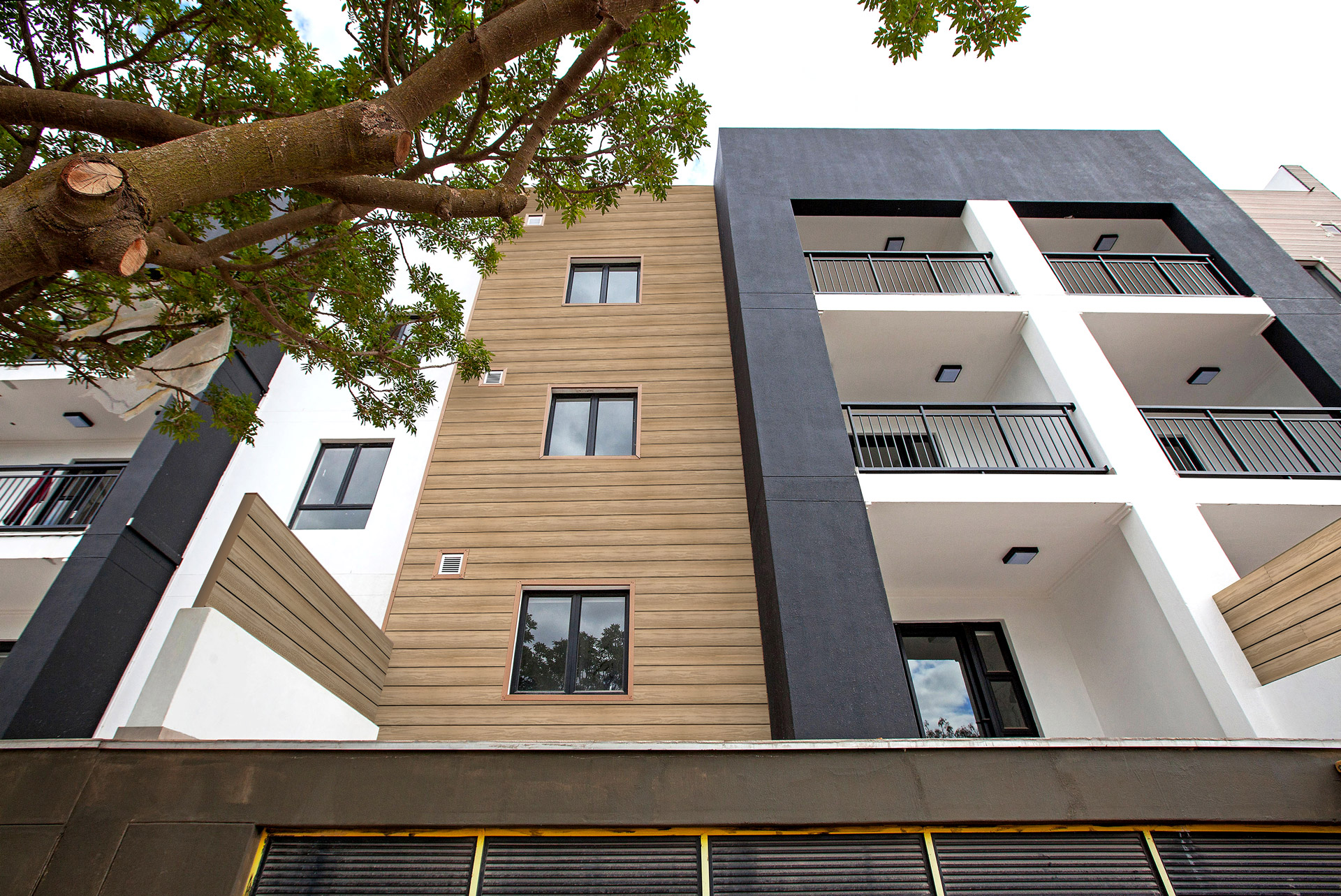 Resists weathering effects: As is the case with any cladding material; UV degradation, fade and moisture-resistant properties are important to consider, as these directly affect aesthetics over time. For example, Fortress® Apex® capped bamboo PVC cladding boards are encapsulated with a high-grade acrylic polymer to shield boards from UV rays and protect against fading and staining. Fortress® Infinity® co-extruded bamboo-plastic composite cladding boards feature an advanced protective cap for elevated durability and long-lasting stability. As a result, cladding board colors endure throughout the product's lifetime and do not require staining or resealing to preserve their warmth and vibrance.
Requires minimal maintenance: By selecting cladding that is simple to maintain, architects can safeguard their legacy of work knowing selected board colors and shapes will remain unchanged long after project completion. Look for composite and PVC cladding boards that only require an annual hosing off to remove dust and pollen, as building owners and facility managers appreciate their cost-effective, low-maintenance nature and enduring wood emulation. Unlike wood, composite and PVC cladding boards do not require time-consuming maintenance and annual treatment with harsh chemicals to retain their warmth and vibrance.
Is backed by strong warranties: Since performance varies across the cladding category, look for products backed by strong warranties that cover moisture resistance and aesthetics. For example, Fortress® Infinity® CBPC and Apex® CBPVC cladding boards are fully backed by 25- and 30-year residential and 15-year commercial warranties that cover performance, staining and fading.
Ready to start designing?
They say you shouldn't judge a book by its cover, though we can't say the same rule applies to building façades. Head over to fortressbp.com/cladding to be inspired by stunning tropical and exotic hardwood-emulating cladding boards.