Good fences might indeed make good neighbors, but with the right type, color, and height they can also, according to industry experts at Realtor, "boost curb appeal and help sales." And for those who love where they live, the backyard has taken center stage during the pandemic, making firepits, decks and yard fencing some of the noted home improvement trends in 2021. While wood remains popular for both home resale and personal fencing projects, wood-alternatives like composite materials as well as steel and aluminum offer nearly limitless potential for homeowners looking to create a one-of-a-kind design aesthetic to define their outdoor living space.
But homeowners also need to consider functionality. Will the fence be keeping a dog in or just giving a little more privacy? How much and what type of upkeep will the fence require? Does the property slope in a way that makes some styles visually displeasing or practically impossible? Whatever the needs and constraints may be, homeowners have more yard fencing options than ever, which can make choosing the perfect type difficult.
What are the Different Types of Fences?
Board direction is one of the first things a person notices about a fence, and it is also one of the ways fences are categorized. In general, there are two board directions: horizontal and vertical. Each of these directions emphasizes different aspects of a home and property.
Evolved from split-rail fencing, horizontal boarding not only emphasizes the size of a yard but also provides a clean, up-to-date look for both modern and ranch-style homes. That said, this type of fence can prove difficult to install on land that is uneven. Because horizontal yard fencing generally has fewer points of reinforcement between posts, wooden boards can sag over time. Homeowners can avoid this inevitability with durable composite fencing.
On the other hand, taller houses and sloped landscapes tend to favor vertical boarding. While it may not be as initially unique, vertical boarding is easier to build and complements a variety of housing and landscaping styles. Vertical yard fences can easily be made from wood, composite, or metal. That means in addition to its versatility, this type of fence has a wide range of options to satisfy whatever design aesthetics a homeowner wants.
What are the Different Yard Fencing Materials?
Gone are the days when homeowners were limited to wood or chain link fences. Advances in technology and material unavailability has made alternative materials like composite and metal more popular in recent years. This increased popularity provides even more choices for those looking to build or renovate their yard fence. Materials greatly impact not only the look and feel of yard fences but also their performance.
Wood is a traditional material for fencing because of its heralded warmth and beauty and comparatively low upfront costs. However, wood fencing will need to be repainted or stained at regular intervals to keep it looking its best. No matter the treatment, wood is still susceptible to sagging, warping, and rot, meaning even the best kept wood will eventually need replacing. While there are methods to extending the life of wood, it is the material most susceptible to damage. Homeowners with large dogs also consider if wood is strong enough to keep their canines safe and secure.
Composite materials offer the warmth of wood without the propensity to decompose from the effects of weathering. Scratch resistant and mitigating visual triggers for barking, composite fencing, like Oasis from Fortress Building Products, is perfect for even the most excitable dogs. With these advantages and more, homeowners will spend minimal time on upkeep, giving them more opportunity to enjoy their outdoor living space. Home Innovation has also found composite to be an excellent choice when traditional materials, like wood, are in short supply.
Metal yard fencing might have a greater upfront cost than wood, but materials such as steel and aluminum tend to last longer and need less upkeep than wood, which can make them a better investment over the long-haul. Category-leading manufacturers have designed steel and aluminum fencing systems to be easily rackable to follow the contours of most landscapes without sacrificing the clean lines these materials are known for. Because metal uses less material, it is perfect for establishing a clear border while maintaining lines of sight.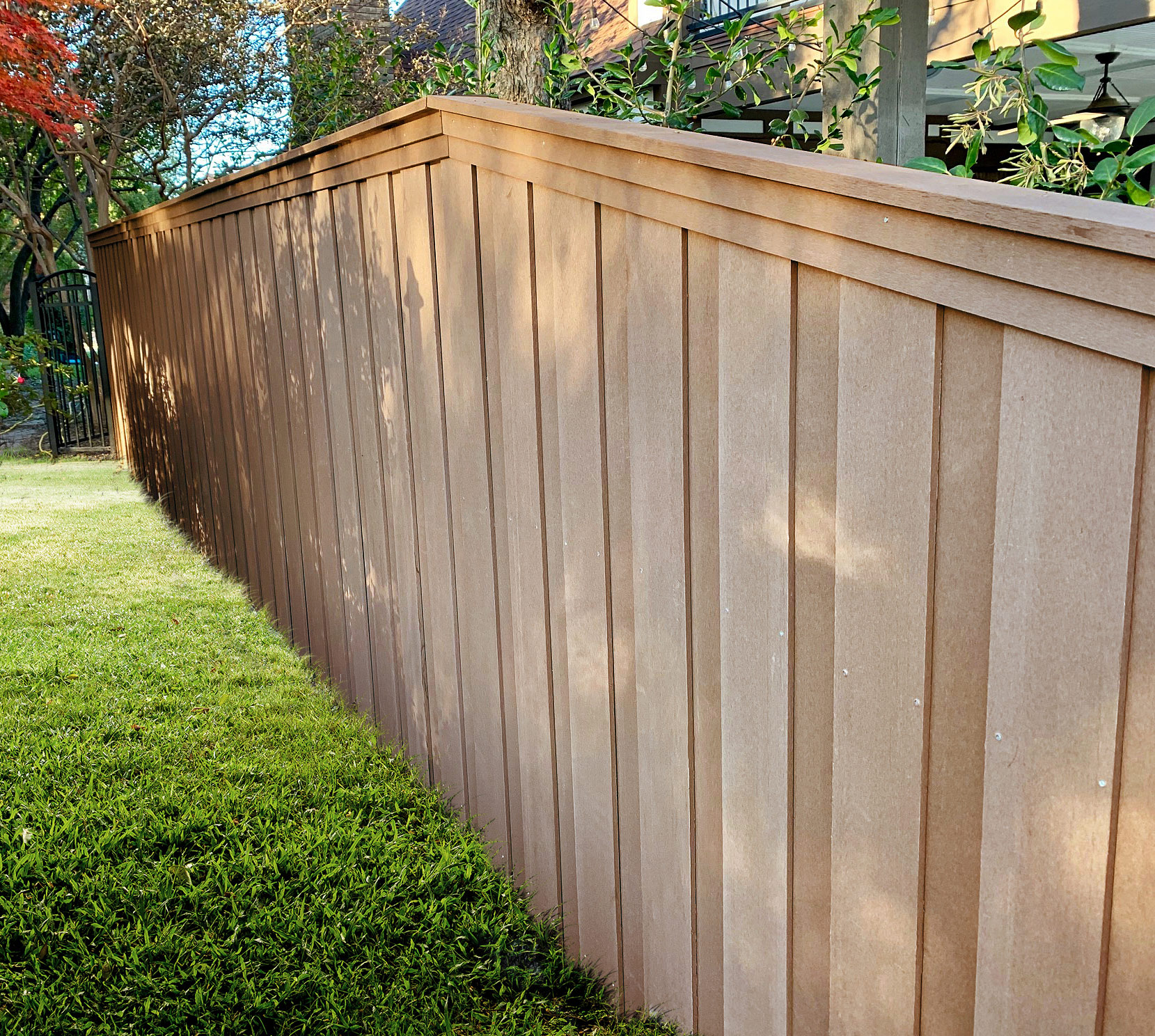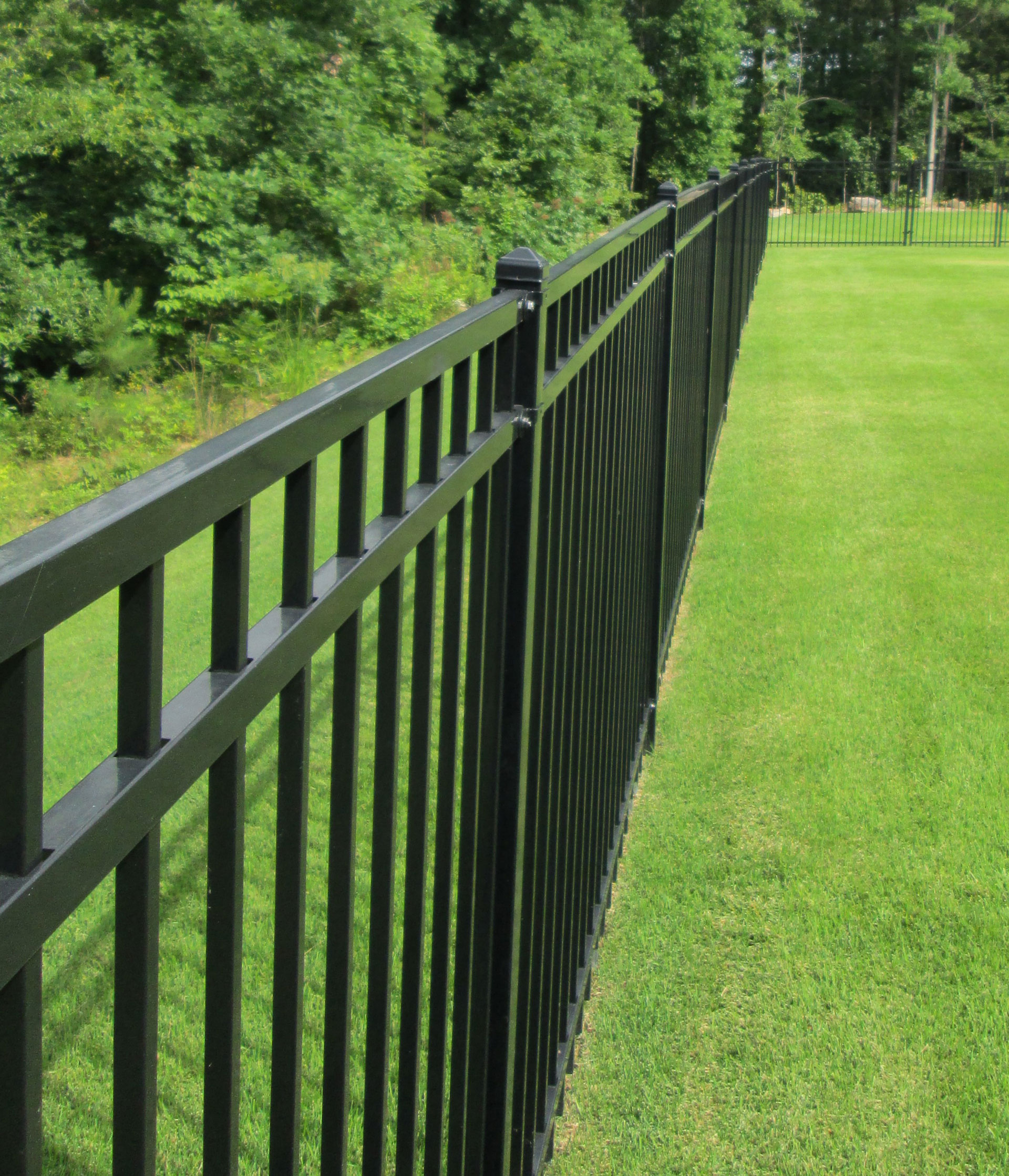 What Type of Fence is Best?
The answer to the above question is that it depends on function, design aesthetics, and landscape constraints. Homeowners should be intentional with the type of fence and its material to ensure they are happy with how their yard fence looks and confident in its ability to perform.
Composite, aluminum and steel fencing solutions from Fortress Building Products can help homeowners create a beautiful and durable boundary to their outdoor living space that not only matches their current set up but will also complement whatever outdoor project is next—be it wood-alternative decking or a stunning pergola.
You May Also Like:
Installing a Privacy Fence: Choosing to DIY o Hire a Contractor
Upfront Style: Today's Top 3 Front Yard Fence Looks
Your Questions on Aluminum Fencing Answered