Both pergolas and gazebos can elevate an outdoor space by giving homeowners shelter from the midday sun and providing a flexible space for relaxing and entertaining. They can also potentially increase property values. When built with steel, these durable and easy-to-maintain structures can match nearly any homeowner's unique tastes. But what are the differences between pergolas and gazebos and what should homeowners consider before choosing one or the other?
What are the visual differences between steel pergolas and gazebos?
The main difference between the two structures is the roof design. Pergolas sport uncovered rafters for slight but noticeable shade and do not have built-in floors. This open design allows the breeze to flow through whether the pergola is free-standing or attached to another structure. It also lends itself to a sleek and modern look.
On the other hand, gazebos, are always free-standing structures with covered roofs. As such, they provide a more traditional look. Because they often have built-in floors, gazebos can also seem more rooted in a particular place.
Pergolas vs Gazebos: Which is better for the backyard?
The answer, of course, depends. When deciding on whether to install a steel pergola or gazebo, homeowners should consider the following: yard and house size, climate and the structure use.
1. Yard and house size
Gazebos generally require more space than pergolas. For homeowners with smaller yards, a gazebo can feel out of place and disconnected. And if a home is on the smaller side, a gazebo can look imposing in comparison. A pergola's open design, on the other hand, can fit an array of yard and home sizes, scaling to the landscape. Further, select steel pergolas can be assembled in countless configurations to fit current outdoor features and to accommodate future backyard upgrades.
2. Climate
Homeowners should also consider climate. While a pergola's open design does well in warm and breezy environments, it does not provide protection from heavy rain and snowfall. However, homeowners in rainy or snowy climates can customize their pergolas with removable covers for an added layer of protection. Because gazebos are permanently covered and have finished floors, they do well in rain and snow. That said, they typically do not allow as much air flow, potentially making them hotter in extreme weather.
3. Intended use
A large gazebo that can accommodate many people may be cost-prohibitive because of the added floor and roofing materials. However, a small gazebo, while perfect for more intimate moments, can quickly feel cramped. If a homeowner is looking for a place to entertain, these structures can be a costly choice. By comparison, pergolas often feel accommodating no matter the size. Additionally, homeowners can hang fabric from the beams and rafters to add a touch of intimacy for smaller gatherings. For these reasons, pergolas can be a cost-effective and versatile solution.
How well can they match future upgrades?
The final thing homeowners should consider when deciding between these two structures is how well they can accommodate future upgrades. Gazebos, as said above, are stand-alone structures that need room to feel right in a backyard, so they may become a problem down the road for homeowners who want to further upgrade their outdoor living space.
Pergolas can be freestanding or attached to other structures (including gazebos), so they present more options for future upgrades. Likewise, new offerings like Fortress® pergolas have almost limitless configurations, so homeowners can customize them to fit their current and future design needs.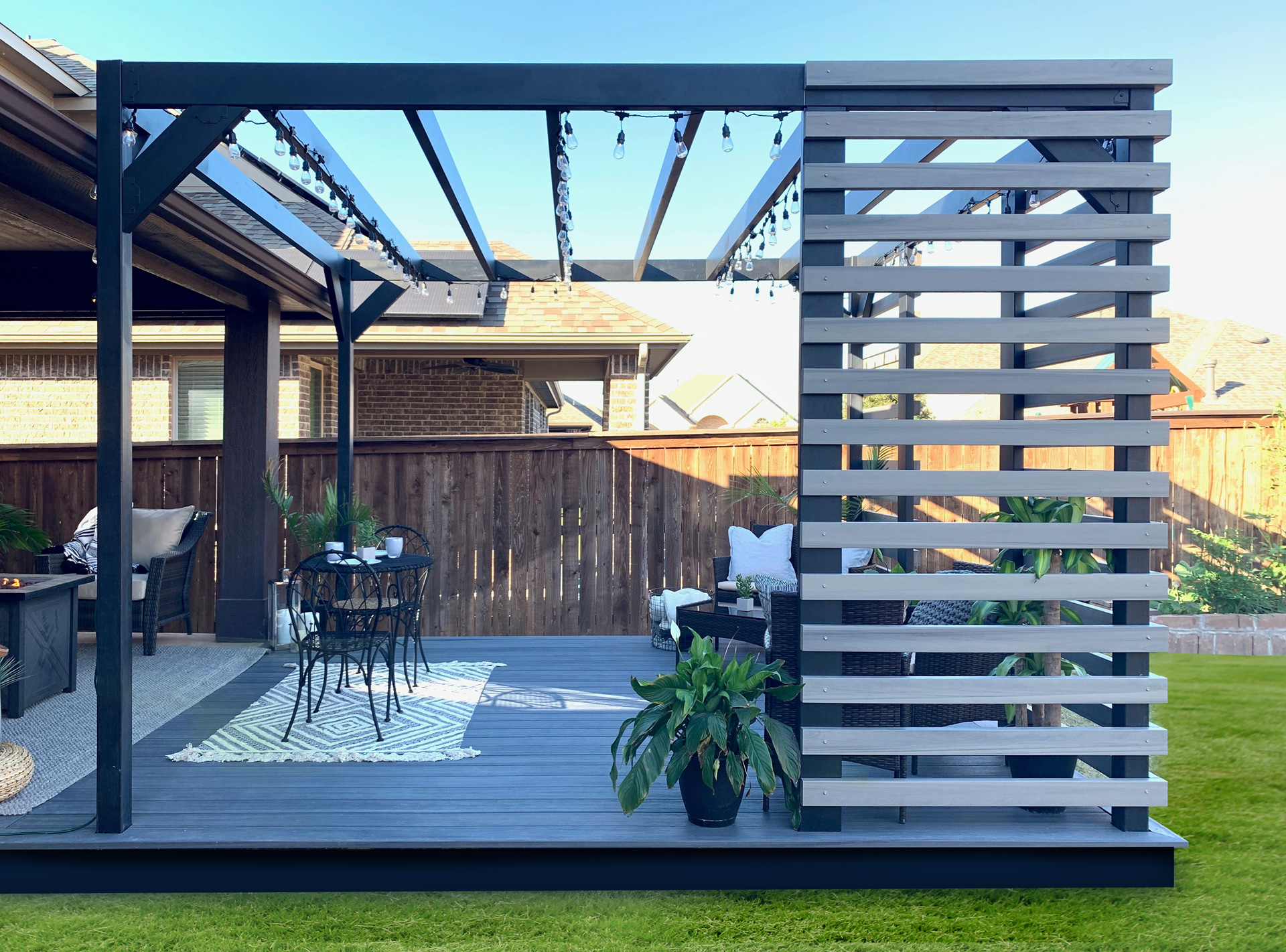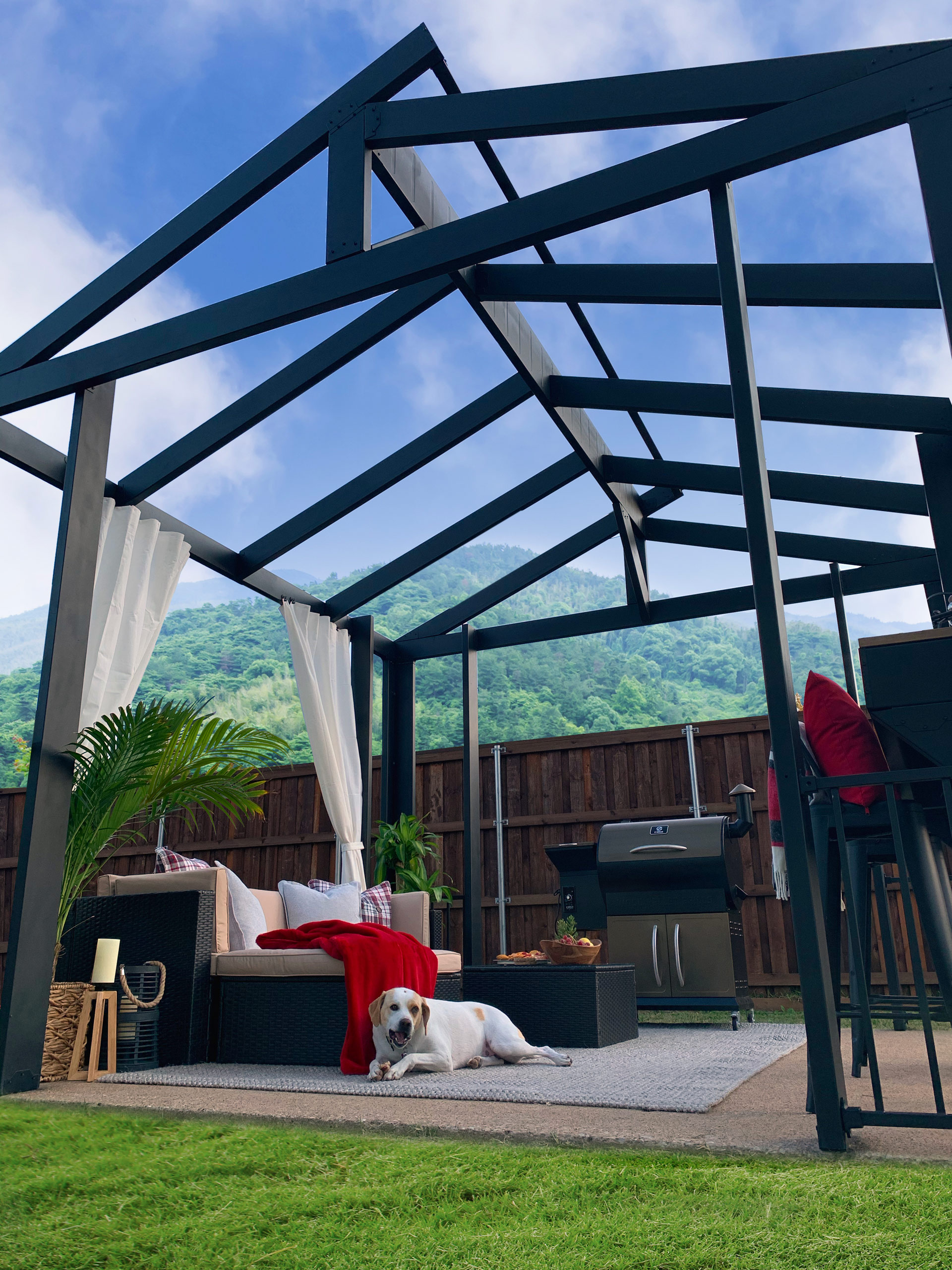 Gazebo or pergola: steel can make the difference
It is important to note that when made with steel both pergolas and gazebos provide a long-lasting, sustainable structure that is more durable than wood or vinyl. Rot-, insect- and fire-resistant, steel pergolas and gazebos are also easier to install and maintain when compared to other materials. The physical benefits of steel means these stunning additions can be places of relaxation for years to come.
Whether built from steel or not, pergolas and gazebos have their pros and cons. Homeowners should consider yard and house size, climate, intended use and how well these structures lend themselves to future upgrades when choosing between them. Doing so will help homeowners know that the structure will not only fit their present needs but also may potentially increase their property value.
You May Also Like:
Pergolas vs. Patio Covers: Choosing a Shelter for Your Outdoor Space
Why are Steel Pergolas so Popular?