With so many decking materials available to homeowners, many can feel overwhelmed when trying to choose the best option for their deck. While design aesthetics and price points should be considered, homeowners may first want to think about performance capabilities such as durability and the expected lifespan of the decking material. The ability for decking to stand the test of time can support substantial labor and maintenance savings over cheaper materials that would otherwise need to be replaced quicker. When looking into which is the longest lasting decking material, homeowners should not only take into account maximum lifespans but also the amount of work it will take to ensure a material remains as beautiful as it was on the day it was installed.
What is the longest lasting decking material?
Like most questions in construction, the answer to the above depends on a number of factors: use, climate, condition and more. While wood has long been a traditional material across the entire deck structure, it is not without its drawbacks. Wood needs costly and labor-intensive upkeep to remain safe and beautiful. Even when homeowners follow routine maintenance, it will eventually succumb to rot, weathering or insect damage.
However, when homeowners choose wood-alternative materials for their deck framing, deck boards and deck railing, they can see substantial increases in the lifespan of their deck. Steel, composite and aluminum resist warping, twisting, corrosion, rot and insect damage to give homeowners peace of mind their deck will last year in and year out.
Deck framing materials that hold up year after year
The key ingredient to a long-lasting deck is the quality of its foundational framing. It doesn't matter how well the railing or decking boards have aged, if the frame is structurally compromised, the whole deck system may fail a homeowner. When built with traditional wood joists, deck frames will need to be regularly checked and maintained to ensure they provide adequate safety. Even then, they will inevitably need to be replaced to remain structurally sound.
On the other hand, steel deck framing is invulnerable to rotting, warping, splitting, fire and insect damage. This means surface boards will remain flat and smooth underfoot for a more stable and enjoyable deck. Further, steel framing systems can be finished with advanced powder coats so they can deliver enhanced corrosion-resistance. As an added benefit, steel deck framing from select manufacturers is backed by a 25-year warranty and is virtually maintenance free, so homeowners can spend more time enjoying their decks and less time working on them.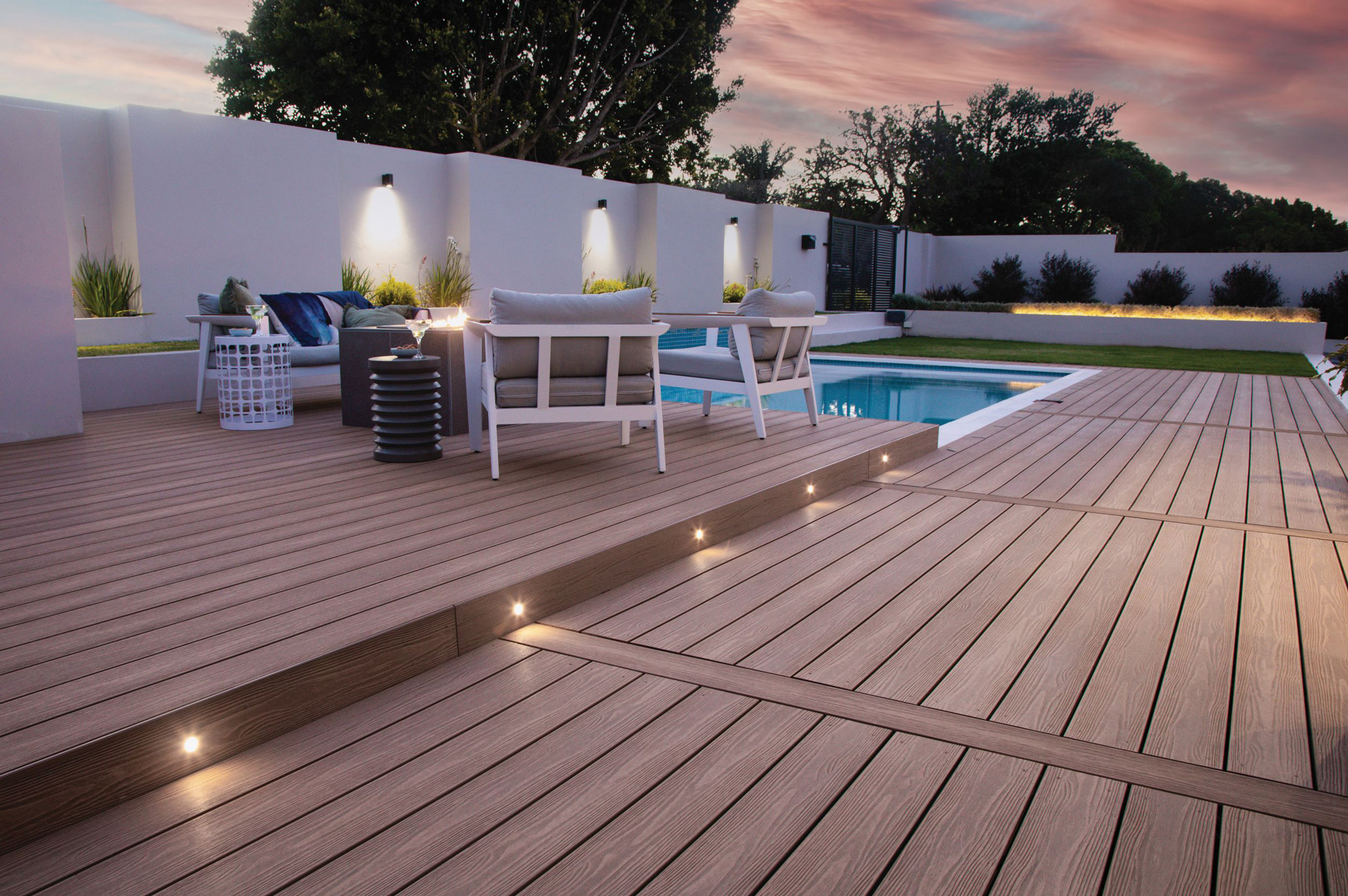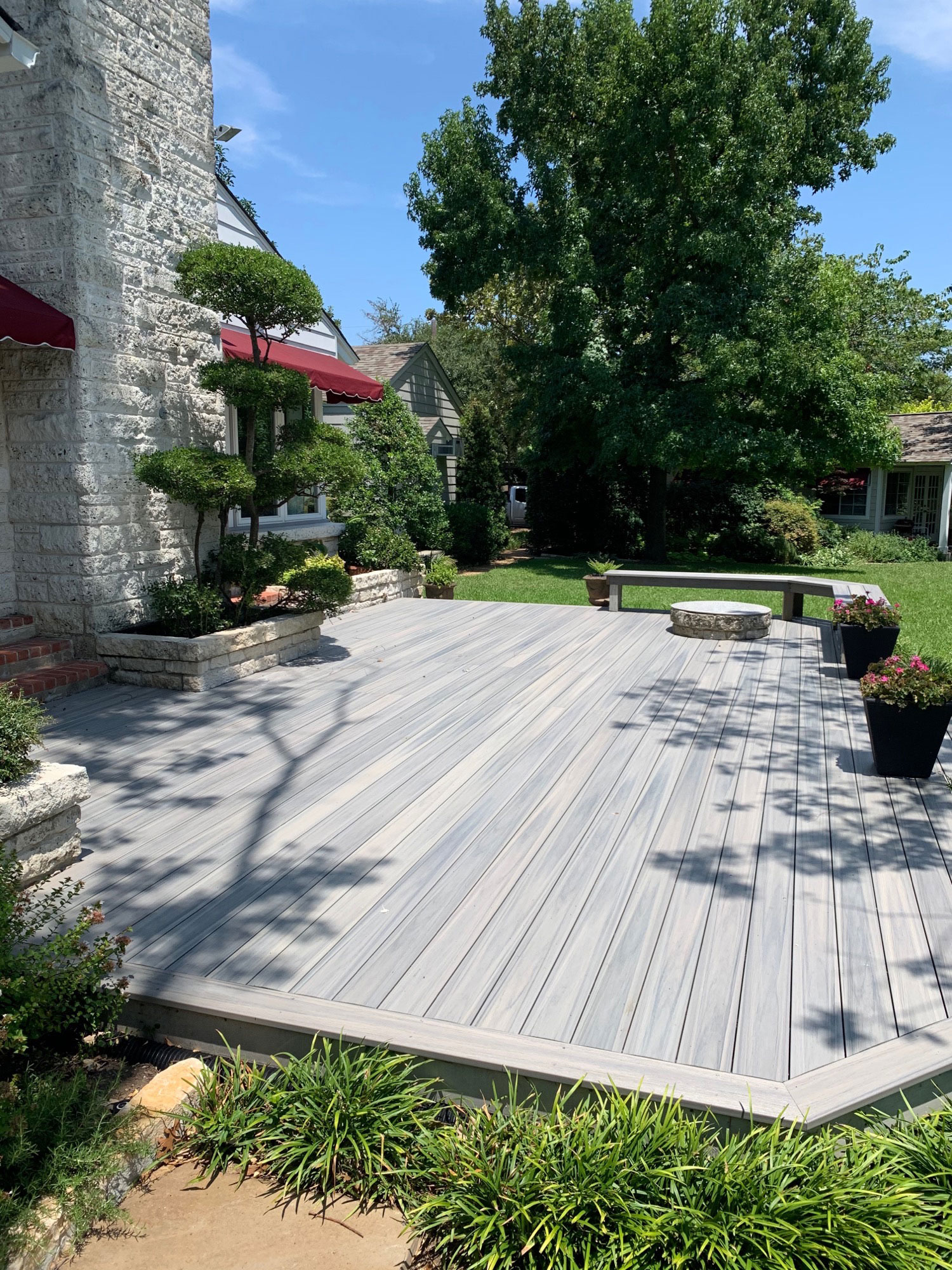 Deck boards that won't slip into disrepair
The next step to choosing lasting deck materials is to consider the type of deck boards used. Like most wood products in outdoor applications, wooden deck boards are susceptible to damage from moisture, weather, insects and more. While homeowners can extend the life of their wood decking boards slightly with regular upkeep, they risk damaging nearby ecosystems with harmful chemicals in fungicides, stain and insecticides.
On the other hand, composite deck boards provide a long-lasting decking surface that only needs to be cleaned with soap and water. Because they can be made with a high percentage of recycled and sustainable materials, PVC-composite deck boards can divert hundreds of millions of plastic bottles away from landfills. Able to closely emulate the warmth of wood, PVC deck boards with foam cores reinforced with bamboo fiber don't just provide strength, durability and weather resistance, they also are lightweight for quick and easy installation. And for applications near pools or hot tubs, Apex composite deck boards from Fortress Building Products provide category-leading slip-resistance.
Mix and match materials to create the long-lasting deck
Identifying the longest lasting decking material can be highly dependent on what part of the deck system a material is intended for as well as other site-specific factors such as climate. Mixing wood-alternative materials can help maximize the lifespan of an entire deck—from its frame to its rails. Mixing and matching can also help homeowners design an outdoor living space that is uniquely their own. Fortress offers a family of resilient wood-alternative deck building materials to help homeowners create an outdoor living space that lasts.
You may also like:
Is Composite Decking Worth It?
5 Mistakes to Avoid: Deck Building The Right Way
Wood vs. Composite Deck Boards: The Great Debate on Decking Material