The deck has become a backyard staple, serving as an entertainment venue for summer barbeques, afternoons lounging by the pool and evenings filled with stargazing, cozy blankets in tow. While those enjoying this outdoor living space may overlook what's supporting their statement deck, savvy builders and DIYers know that foundational deck framing is as important as the beautiful boards above.
Before getting to work constructing a deck structure, however, it's wise to consider the materials needed to achieve a safe, complete system that will last the test of time. Bonus points for deck and stair framing that's easier to build! Read on for the top tips to think about before picking up that hammer or mallet.
1. Ensure Safety First with Deck Framing and Stairs
With some decks in use year-round and large backyard gatherings commonplace during warmer months, lives are literally on the line if a deck structure fails. Safety should be top of mind for any deck builder and is an element to take into account sooner rather than later.
One of the first steps in determining whether deck framing can maintain structural integrity is to closely examine the framing materials before construction gets underway. Traditionally, builders and DIYers relied on wood for its familiarity and low price point. After all, lumber and its system components are typically more commodity priced. Yet, when it comes to safety, wood deck framing is susceptible to rot and decay from water, fungi and pests such as termites. These critters' constant chewing can dangerously compromise the very foundation of a deck from the inside out.
Light-gauge steel is one alternative that can sidestep the issue of deterioration. It's resistant to living threats, from mold to termites and even beavers. What's more, when builders utilize steel deck framing, they're guaranteeing commercial-grade strength. With greater strength than wood, builders can stand proud knowing that the steel total solution is as safe as possible.
Pro-tip: Another safety factor to consider is whether the deck requires stairs. Until recently, steel deck structures weren't available with a connecting stair system. This meant that miscalculations, poor stringers to deck connections and inconsistent rises and runs were rampant in past decks. Fortunately, innovative offerings can bring the framing and stairs into one cohesive system for greater safety and a better build.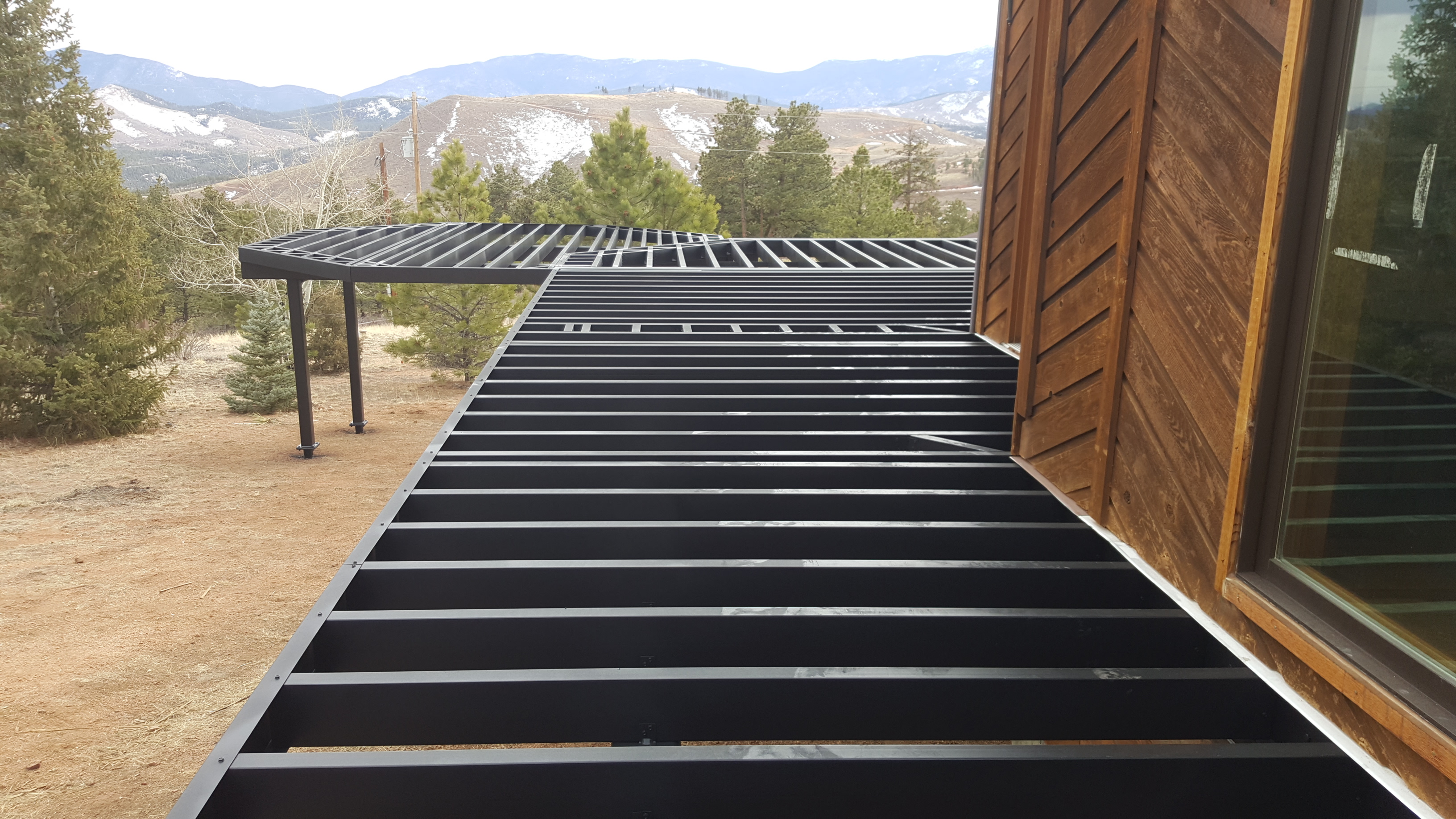 2. When it Comes to Deck Framing, Think Longevity
Along with seeking a deck structure that protects people at play, deck builders need to bear in mind how long the framing will last. With composite and PVC gaining traction as more durable decking alternatives to wood, more manufacturers are engineering deck boards to last 25 years or more. That being said, wood deck framing often can't keep up. Lumber typically starts deteriorating after 10 years in service.
Instead of going through the hassle of having to replace an entire wood deck structure when the material can no longer serve as a proper support, professionals will want to consider other framing options on the market prior to building. With light-gauge steel, for example, the deck framing doesn't absorb moisture. This sidelines one of the most common reasons for lumber's decomposition. Steel also doesn't warp with changes in temperature for a more enduring, dimensionally stable solution. To fully understand the pros and cons of wood framing versus steel deck framing, consult a comparison chart.
3. Opt for a Deck Structure Kit
For the builder or DIYer who wants to try their hand at putting together a steel deck structure, some manufacturers offer the added bonus of ready-to-assemble deck framing packages. For instance, Fortress® Evolution steel deck framing comes in one comprehensive kit. The integrated system contains all the parts needed to install a basic deck frame, fasteners included. Much like wood at a hardware store, the total system also contains many beam and joist length choices. And, since builders don't need any more materials on hand, steel deck framing and accompanying steel deck stair systems are easier to build and more cost-effective than ever.
Another perk of Evolution? The deck framing seamlessly combines with Fortress' Evolution steel deck stair system, creating a true total building solution. A first in the industry, the stair system minimizes the use of excessive stringers for a safer deck, works with the deck framing's joist and beams so installation is a breeze and holds the same warranty as its framing counterpart.
To frame smarter with Evolution, check out: "Installation Instructions for Fortress Framing
Evolution Steel Deck Framing System" for a deeper dive.