Whether you're a long-time fan of composite decking or recently upgraded from traditional wood, this alternative decking material exhibits a handful of unrivaled advantages that keep sweat-inducing maintenance at a bare minimum.
Its UV and moisture-resistant properties, for one, offer protection from the irreversible effects of weathering. Plus, composite boards deliver the appealing look of a natural wood grain, but will not splinter, crack or warp like wood boards. The best part? You will never spend another weekend sealing, painting, or staining. Ever. What does this mean for you? Cue the summer fun—you are equipped with more time to lounge on your deckwith a good book or jump into the pool with your friends and family.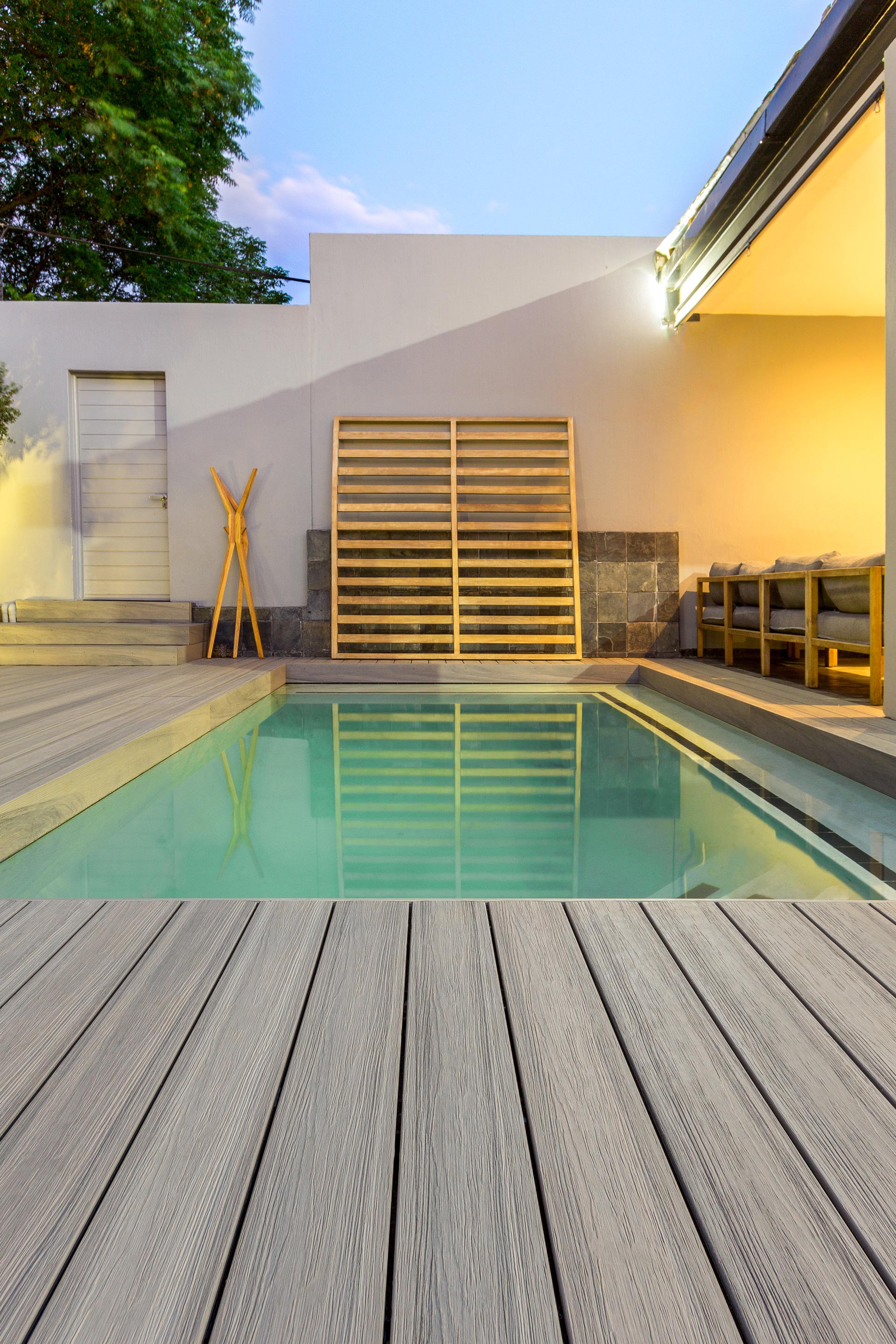 While composite decking makes it easy to keep the focus on the fun, much like any exterior building material, it requires a little care, here and there. Read on below for four common maintenance needs and easy tips for the best composite decking care.
Dirt, debris and pollen. The covert cracks of your deck seem destined to attract litter from overhead trees and plants. To eliminate the risk of build-up, regularly sweep your deck with a broom and dislodge accumulated junk between deck boards. Clearing the gaps will allow air to pass, helping to keep the decking system dry and free of dirt, debris and pollen. Some composite decking manufacturers support this cleaning effort by designing boards in shapes that allow for enhanced ventilation. The innovative I-beam shape, for example, allows for more breathing room between boards. This reduces overall dirt debris build up.
Hard water staining. Although composite decking is engineered to withstand moisture left behind from yesterday's rain shower or pool session, there is value in looking for small ways to minimize standing water. Leaving water sitting on your deck for too long can lead to unsightly rings on boards, particularly if the water contains high amounts of mineral deposits. The good news? These water rings or light stains can generally be removed with a splash of white vinegar and elbow grease.
An easy step to take to avoid this concern altogether is to direct downspouts, downspout extensions and splashguards away from the deck surface. You can also cut back foliage that is hanging over the deck to reduce dripping water.
Oil and grease. Any remnants left behind after an outdoor cookout, such as oil and grease drippings from your BBQ, should be cleaned up immediately with a soft bristle brush and water and soap. Gentle dishwashing detergent will also work. If left overnight, oil and grease can leave a dark, unattractive stain on the surface of your deck boards. Just like your favorite white t-shirt, if stains are left to seep into the surface for an extended period of time—they can be tricky to remove.
Pro-tip: While tempting, it's not recommended to use a pressure washer on composite deck boards to clean up dirty messes. It can alter the surface of the material in the same way that sanding would. However, if pressure washing is your only option, be sure to hold the fan tip no closer than 8" from the decking surface and at the lowest psi possible.
Snow and ice. If you frequently experience the wrath of harsh winters, use a plastic shovel to remove snow and then pour a calcium chloride based "ice-melt" or rock salt to remove any sitting ice from the decking surface. Be sure to avoid ice melts with added color and sand, as they can act like sandpaper—buffing away at the embossed surface of your composite deck boards. And similarly, stay away from metal shovels. They can nick even the most durable of decking materials.
Rest assured, with a little foresight, there's likely no amount of light composite decking care that you can't tackle armed with a broom and a bucket of sudsy water. And by practicing regular upkeep, you will garner plentiful cost-savings because you won't need to pay for extensive annual refurbishments such as sanding and staining. Moreover, you will ensure that your investment operates at peak performance for years to come. Interested in learning more about composite decking care? Visit FortressBP.com.