To create a deck that will stand the test of time, builders and DIYers across the country are turning to composite and PVC decking. Designed to offer improved water and UV resistance, these alternative deck boards outperform traditional wood in both mild and harsh climates. They are not prone to rotting, warping or deterioration. And with just minimal maintenance, they will remain an aesthetically pleasing backdrop for al fresco dining and pool parties even after years of use.
While the enduring nature of composite and PVC decking has led to better surface boards, it has brought to light a new issue—the lifetime of the wood framing underneath. Wood deck framing typically starts deteriorating after 10 years in service. But many alternative deck boards are engineered to last 25 years or more. This means the compromised framing must be replaced and the surface boards re-installed years before they need an overhaul.
Steel Deck Framing: Engineered to Support and Defend
A lasting fix to this problem is to build strong from the bottom up with easy-to-use steel deck framing system like Fortress® Evolution. This new framing alternative is expertly suited to support decking investments by capitalizing on the heralded durability and industrial strength of steel. What's more, its light-gauge steel form is easy to maneuver and install.
For all of its superior performance capabilities that lend to a longer deck life—we've pinned down the top seven:
Easy to install. Builders and DIYers that know how to frame with wood will have no problem framing with steel—even on curves.
Straight, uniform pieces. Light-gauge steel is precision engineered to build flat and stay dimensionally stable over its lifetime.
Build beyond limitations. Steel's inherent strength allows the deck framing system to provide greater spans between supports. The result is fewer columns for less obstructed views.
Long-life warranty. Steel framing is engineered to last as long as today's impressive surface boards.
A smart investment. Light-gauge steel delivers commercial-grade strength, so it will support a decking system throughout years of use without needing to be replaced.
Fire and insect resistant. A non-combustible material, steel deck framing is resistant to fire and invulnerable to pesky insect damage.
Sustainable. Steel is recycled and recyclable, making it a great solution for environmentally conscious builders and DIYers.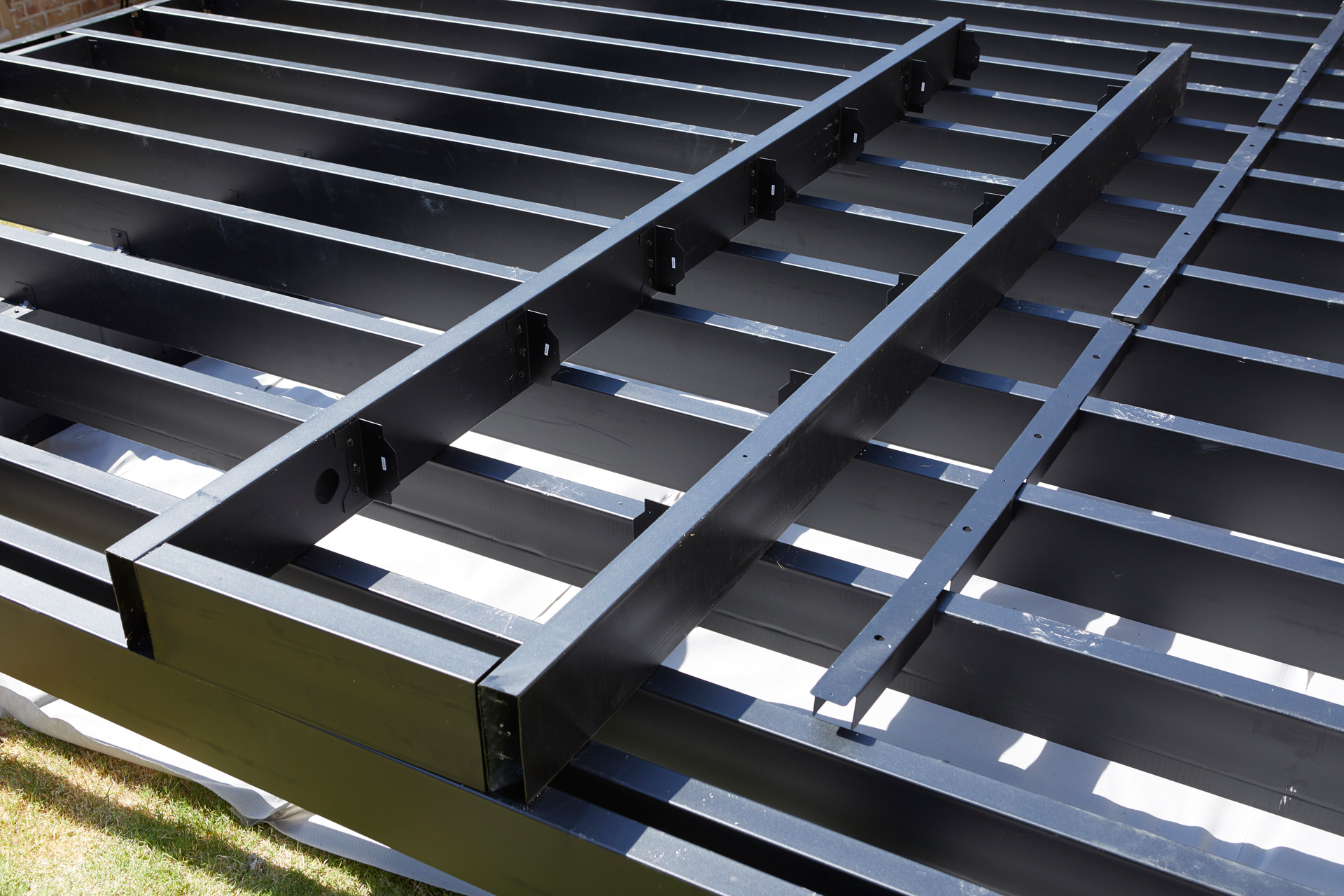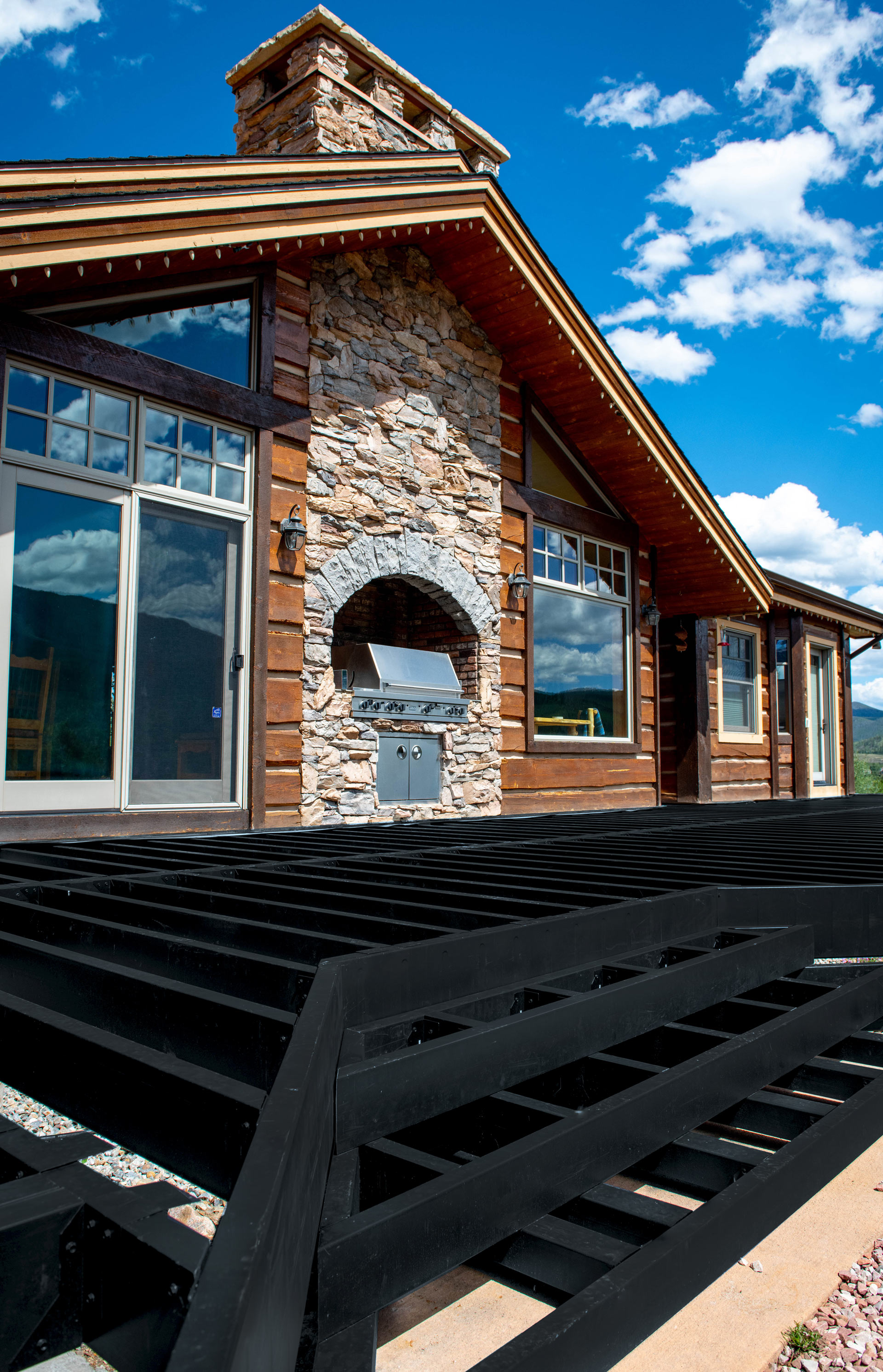 Hesitant to Make the Switch to Steel Deck Framing?
While steel's inherent capabilities lend to the lifespan of a decking system, new users may be hesitant to make the switch from lumber. A prominent obstacle associated with steel deck framing is, simply put, that builders and homeowners are unaccustomed to working with the material. Some manufacturers address this knowledge gap by offering comprehensive, ready-to-assemble light-gauge steel deck framing kits that provide a seamless transition from wood. The smart interlocking joist and ledger system allows for an uncomplicated installation process that does not require builders or DIYers to keep any additional tools on hand. Better yet, steel deck framing systems are now available that work with compatible steel stair system components and brackets, creating a complete outdoor living solution.
Manufacturers are also continually addressing other concerns commonly associated with steel, such as susceptibility to corrosion. For example, by applying a powder-coated sealant to steel deck framing systems, manufacturers can provide increased corrosion resistance and protect the steel from rusting.
Get Started With a New Breed of Deck Framing
Comprehensive framing solutions like Fortress® Evolution make it easier than ever for builders and weekend warriors to make the switch to steel. Steel deck framing systems arrives ready-to-assemble, empowering users and easing worries around unfamiliarity with steel framing. For added confidence, Evolution steel deck framing is now fully verified for "Structural Performance" by an independent assurance organization. With this designation, Fortress can offer builders and DIYers a proven, enduring framing solution tested for safety. Another perk of Evolution? The deck framing seamlessly combines with Fortress' Evolution steel deck stair system, creating a true Total Solution. Interested in extending the life of a deck with the Evolution framing system? Learn more at https://youtu.be/Mu7nYNsyhrw or by visiting fortressbp.com.