Deck railing is often required by international and local codes. It also presents an opportunity for homeowners to showcase their unique tastes. The right railing designs, materials and accessories can shift a deck from a mundane space to a modern outdoor oasis. However, homeowners have several options when it comes to deck railing, so how can they know which decision is right for their outdoor living space?
While homeowners should trust their personal style preferences when choosing their deck railing, they should also consider the following tips to ensure their deck railing is uniquely their own and provides lifelong safety:
Choose high-performance and low-maintenance materials
Set a tone with a specific aesthetic style
Use color to coordinate or contrast decking and siding
Highlight the surrounding landscape
Choose a deck railing material that is high-performance and low-maintenance
Before looking at deck railing designs, homeowners should consider their material options. Choosing a material that is low-maintenance but still durable will help homeowners spend more time relaxing on their deck than maintaining it. While a more traditional option, wood requires routine staining and sealing. Even when meticulously maintained, wood is still susceptible to rot and decay. Vinyl railing requires less upkeep by comparison, but its bulkier profile sizes limit its design potential.
Durable deck railing materials like steel and aluminum offer the best of both worlds with low-maintenance and high-performance capabilities. They also lend themselves to a variety of aesthetic styles and are available in a range of colors, giving homeowners more design options. For added peace of mind, select steel and aluminum deck railing manufacturers back their systems with industry-leading warranties.
Set a tone with a specific style of deck railing
Railing style can create a specific tone or theme to an outdoor living space. For example, a black metal railing with narrow profiles can lend a sleek and modern design aesthetic to a deck. Likewise, steel cable railing can hint at a more alpine aesthetic style. The subtle differences of these deck railings can influence what décor looks best on the deck and how well the deck itself acts as an extension of a home's interior.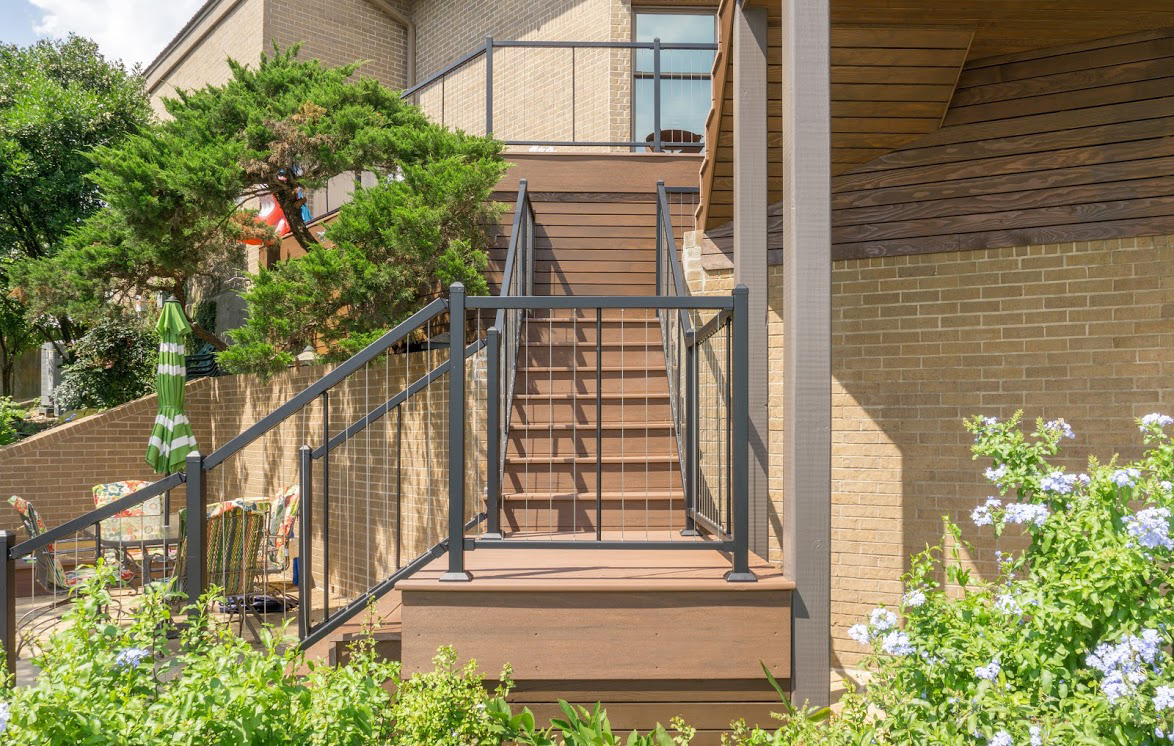 Use color to coordinate or contrast with deck boards
Deck railing color can also help create a unique outdoor living space. Selecting railing in the same shade as the deck boards creates a cohesive design aesthetic that can help define the space. Homeowners can also choose contrasting colors to make the boards and the railing visually pop. By contrasting decking products, homeowners create connections throughout their outdoor living spaces.
For example, deck railing that contrasts the deck but is the same color as a home's window and door trim can visually connect the two spaces. Also, deck railing that matches the material and color of nearby outdoor elements like fences and pergolas can create a cohesive design aesthetic across the entire backyard. Homeowners can also balance these opposing drives with baluster railing, which can feature wooden or composite posts that match decking and steel panels that contrast.
Highlight the landscape with deck railing
Railing designs can draw the eye in with accent rails, panels and post caps to make an outdoor living space feel personalized. They can also fade into the background, letting the scenery beyond the edge of the deck take centerstage. When black, the narrow profiles of aluminum railing all but disappear. This material provides the strength and durability to keep homeowners safe without calling attention to itself—perfect for decks with stunning views.
Similarly, glass panel railing offers the highest visibility of any deck railing option so homeowners can indulge themselves with unobstructed views. Because select glass panel railing manufacturers have developed drop-in style glass panels and balusters, installing this type of deck railing is quick and easy.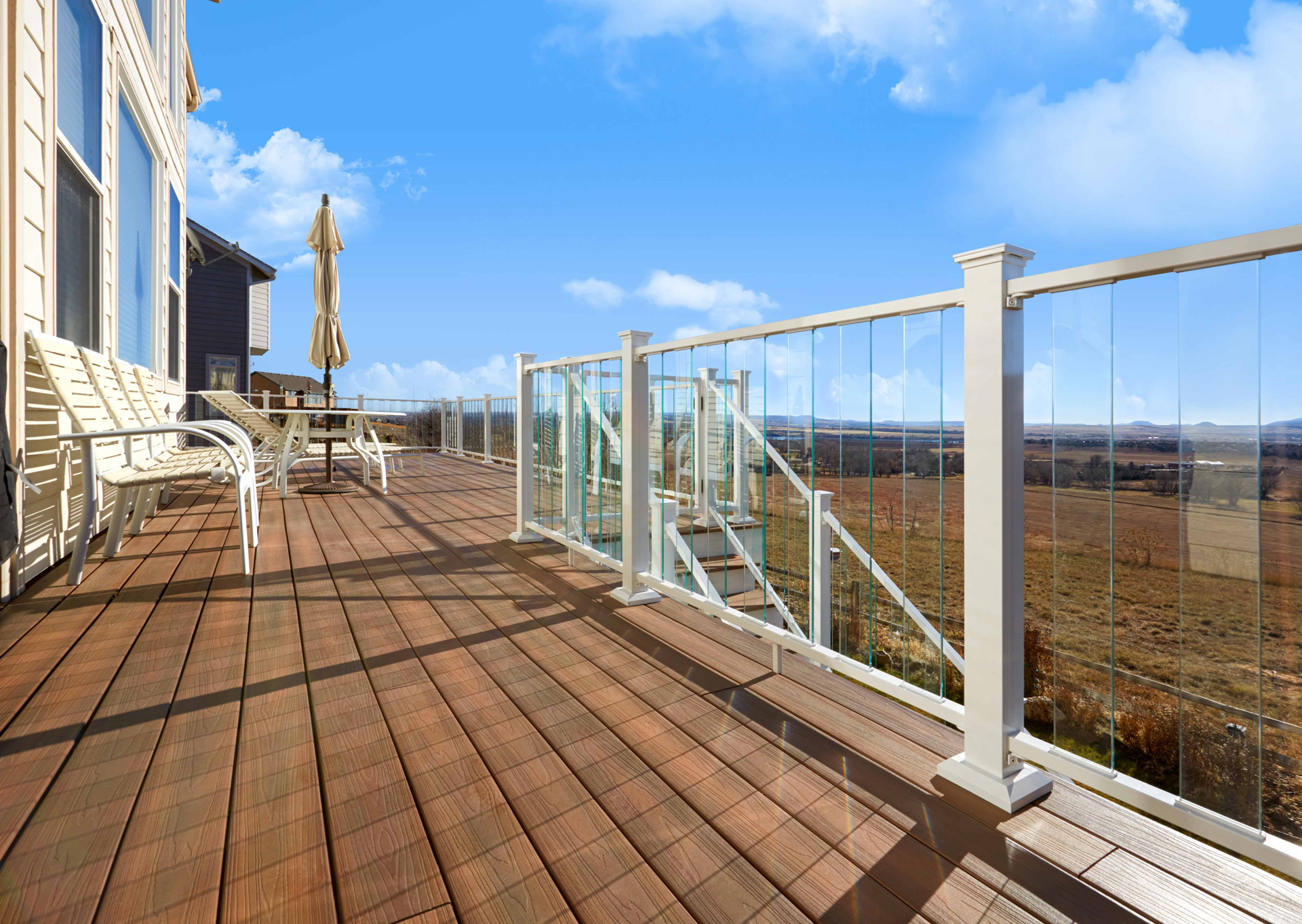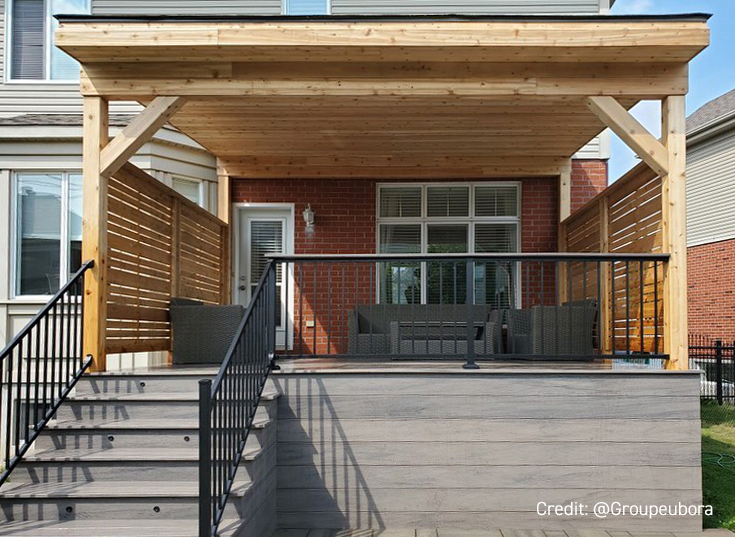 Select deck railing that boasts style, safety and unparalleled support
Truly, there is no shortage of deck railing ideas. With so many options, homeowners can customize their deck with railing designs that fit their personal style and provide the strength and durability required by local and international safety codes. Fortress Building Products offers homeowners deck railing that is not just safe and stunning but backed by industry-leading warranties. No matter the style, Fortress® railing gives homeowners peace of mind that it can handle whatever mother nature throws its way.
You may also like:
5 Deck Railing Ideas as You Plan for Warmer Weather
How-To: 3 Ways to Finish the Ends of Composite Decking
The Latest in Modern Materials; Decking, Railing and Lighting