The design aesthetics of today's deck railing offerings run the gamut from subtle to extravagant and every shade in between. But deck railing does more than just add a bit of personal style to an outdoor living space. It is also one of the most essential deck safety features. Safe deck railing protects homeowners and their loved ones from falling off the edge of the deck. Perhaps because May is deck safety month or because there are so many options available in the marketplace, some homeowners are asking, "What is the safest deck railing?"
The answer depends on several factors, including the deck height, local building codes, climate conditions, whether kids and small pets will use the deck and more. To help homeowners navigate the wide world of deck railing, we have answered some common questions about deck railing safety.
Q. Is cable deck railing safe for kids?
Cable deck railing can be a stunning addition to any deck. Its minimal sightlines can furnish a sleek and modern look. The cables, when tensioned correctly, can also provide the strength needed to keep people safe. However, some wonder if this type of railing is safe for children since horizontal cables can create a "ladder effect," allowing children to climb to the top of the railing and risk falling.
However, in a study prepared by the National Ornamental and Miscellaneous Metals Association (NONMA) and the National Association of Home Builders (NAHB), researchers found falls from railings account for 0.032 percent of injuries in young children. Falls from windows, doors, countertops and fences each account for a larger percentage of injuries. For this reason, climbing concerns for horizontal railings have largely been dismissed. That said, there are risks and some jurisdictions limit the use of horizontal railings.
To help reduce such risks and provide a viable option for homeowners in places that limit horizontal railing, Fortress Building Products developed the industry's first vertical cable railing panel. The vertical orientation of the railing completely sidelines potential climbing risks for children while providing a barrier strong enough for adults. The 316 marine grade stainless steel cables are spaced closely and evenly to meet safety standards. Because the cables and posts resist corrosion and warping, they do not need to be re-tensioned like cable railings with long cables spans and minimal termination points, ensuring long-term safety without the hassle of routine maintenance.
Q. Will glass railing shatter?
Glass deck railing also offers clear views of the surrounding landscape. But this material often leaves homeowners concerned about its ability to withstand impact—whether from people or acts of nature. Select glass railing manufacturers offer drop-in style 6mm thick tempered glass panels that are not only easy to install but also three to five times stronger than ordinary glass.
In fact, this specialized glass can withstand an impact velocity of 60 feet per second (nearly 41 miles per hour) and stress pressure of 24,000 pounds per square inch. Further, on the off chance an impact is powerful enough to fracture these panels, they will break into small pieces that do not have sharp edges to minimize risks of accidental cuts.
Q. Is aluminum railing strong?
Aluminum is not susceptible to corrosion or rust, which means it can withstand extreme weather, including snow, ice, rain and harsh UV rays without twisting, shrinking or warping. Industry-leading manufacturers use a pre-attached bracket system to provide commercial railing strength that is ideal for residential applications. Pre-attached bracket systems simplify installation while maximizing rigidity and durability to increase the safety factor of above-ground decks, porches and patios.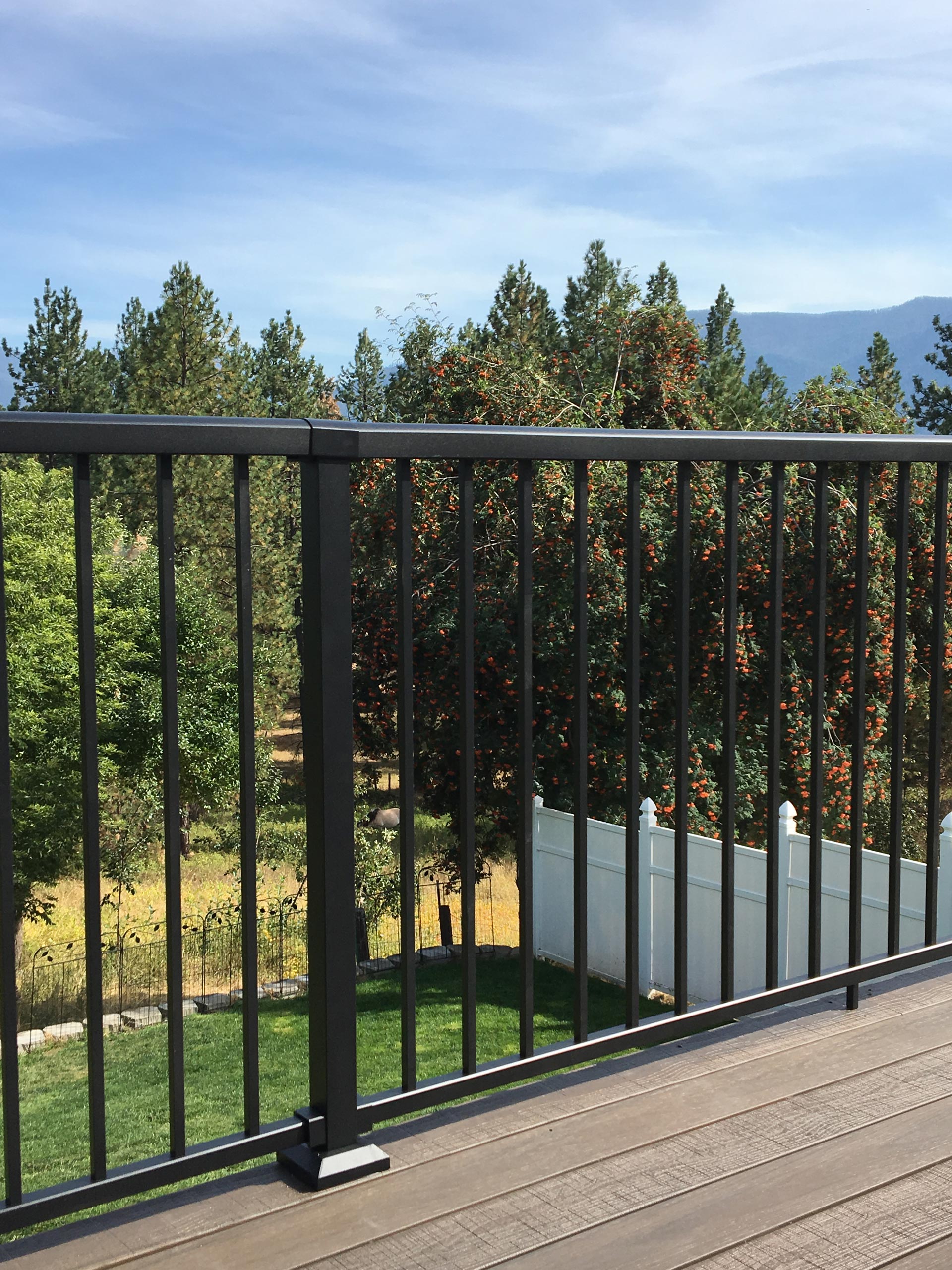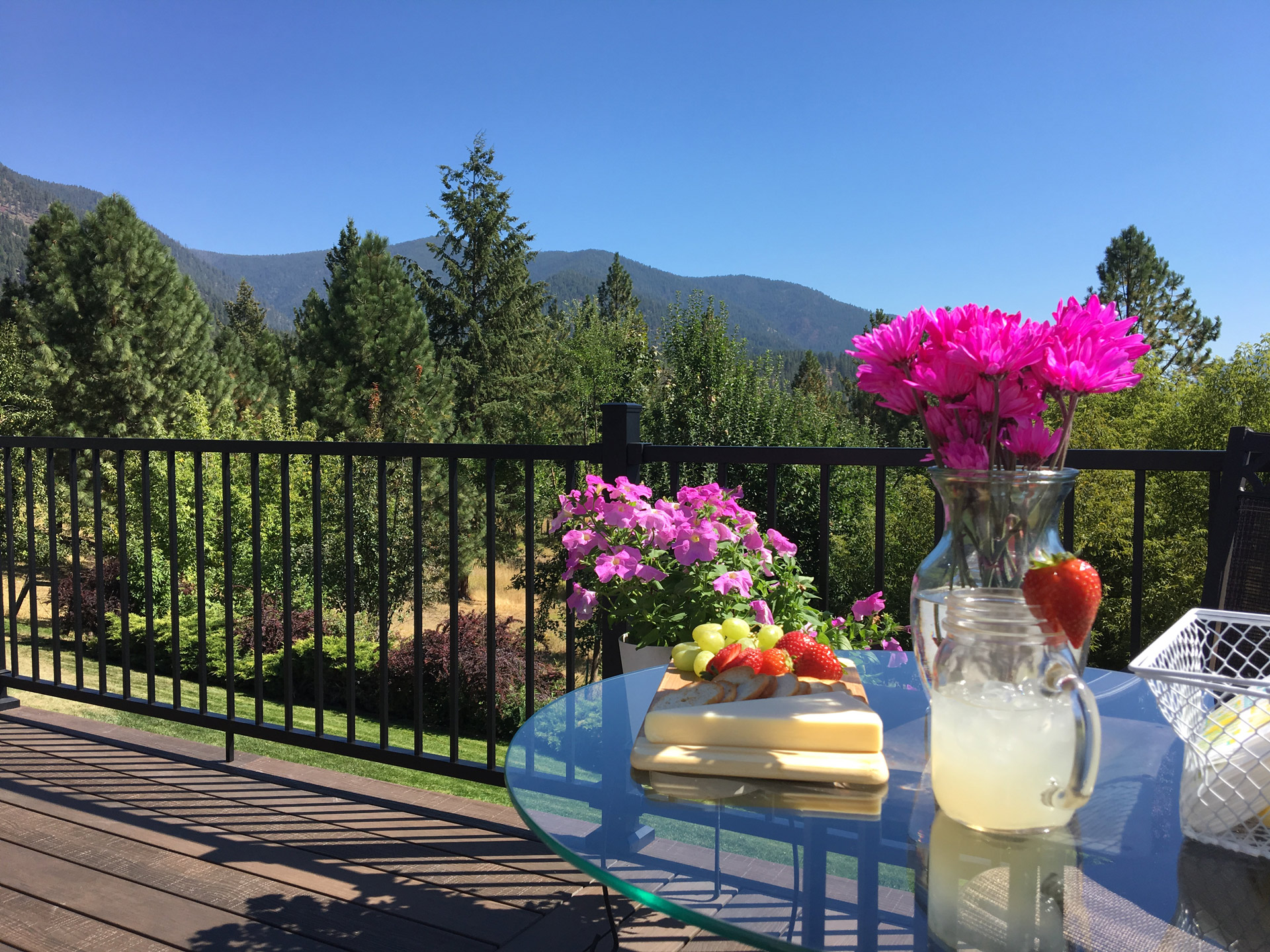 Q. How do you childproof a deck railing?
Even the safest deck railing can still pose dangers to the youngest members of a family. The gaps between the deck surface and the rail and the open spaces between the railings themselves are often just the right size for small heads and bodies to shimmy through. To reduce the risk of injury (or uncomfortable situations), there is nothing more effective than providing direct supervision of little ones while spending time on deck. In addition, homeowners should follow the International Residential Code (IRC) standard to reduce all gaps to less than 4 inches. This will help ensure children cannot fit their heads or bodies through and risk falling and other dangers.
If the gaps in the railing still give homeowners pause, after market accessories like child gates, meshes and plexiglass barriers can help create safer decks for children. That said, if a homeowner decides to take this route, they should consult with a deck inspector or qualified decking professional to ensure these safety measures will not void a product warranty or have unintended or dangerous consequences.
Safe deck railing is a key component of overall deck safety
As stated above, there are many factors that go in to determining which is the safest deck railing for a specific outdoor living project. As a partner of the North American Deck and Railing Association (NADRA), Fortress Building Products is committed to supporting deck safety and advocating for safe building practices. Accordingly, Fortress® railing is code-tested and backed by industry-leading warranties. It is also a part of the Total Solution, so it works in harmony with other solution-driven outdoor building products to provide safe, beautiful and long-lasting outdoor living spaces.
You may also like:
Deck Railing Roundup: Your Top Railing Questions Answered
5 Deck Railing Ideas as You Plan for Warmer Weather