Any fencing project comes with its own unique challenges, from choosing the right style to installing the posts correctly. These challenges compound as a property's acreage increases. For instance, a homeowner in a rural area may not want to obscure sightlines with man-made structures but still want to define the property line.
Not only do homeowners with larger properties have different reasons for installing a fence, but they also have different expectations for those fences, including keeping required maintenance at a minimum. Whereas maintenance on a standard yard fence may not be unreasonable, it can turn into a herculean task when the fence stretches on for acres.
There is no single answer for determining best fencing for a large property, but considering the following factors can help homeowners choose the right fence for them.
The best fencing for a rural property preserves sightlines
One reason people move to rural areas is to connect with the natural world. Installing a privacy fence on these types of properties may be less than desirable since they block views into and out of the property.
Some of the best fencing for rural properties are made of steel or aluminum because their clean lines almost fade completely into the scenery. These fences set up a strong perimeter, keeping pets and children from wandering off alone and alerting hunters to property lines. Unlike traditional barbed wire fences, steel fences won't cut or otherwise hurt young children or pets, making them safer overall. Further, select options come with rackable aluminum or steel fence panels, so they can follow changes in grade while keeping a smooth top rail.
Additionally, some aluminum options come with lifetime limited warranties to give homeowners piece of mind that their fence will be a long-lasting solution. These features work together to create a beautiful fence line that will still let the scenery take centerstage.
The best fencing for a large property is low maintenance
When it comes to owning long stretches of fencing, it is important for homeowners to consider the labor required to keep them pristine, safe and structurally sound. Whether in pickets or a split rail design, traditional wooden fences need routine maintenance. From restaining and resealing to replacing posts and more, the labor needed to keep a wooden fence in working order is exponentially greater for large properties.
Wood-alternative materials, on the other hand, are virtually maintenance-free. Industry-leading steel and aluminum fencing systems sport a weather-resistant powder coat, so they stay beautiful and structurally sound year after year. Additionally, by sidelining the need to use harsh chemicals, wood-alternatives keep pollutants from entering nearby ecosystems—a vital quality for fencing in rural areas.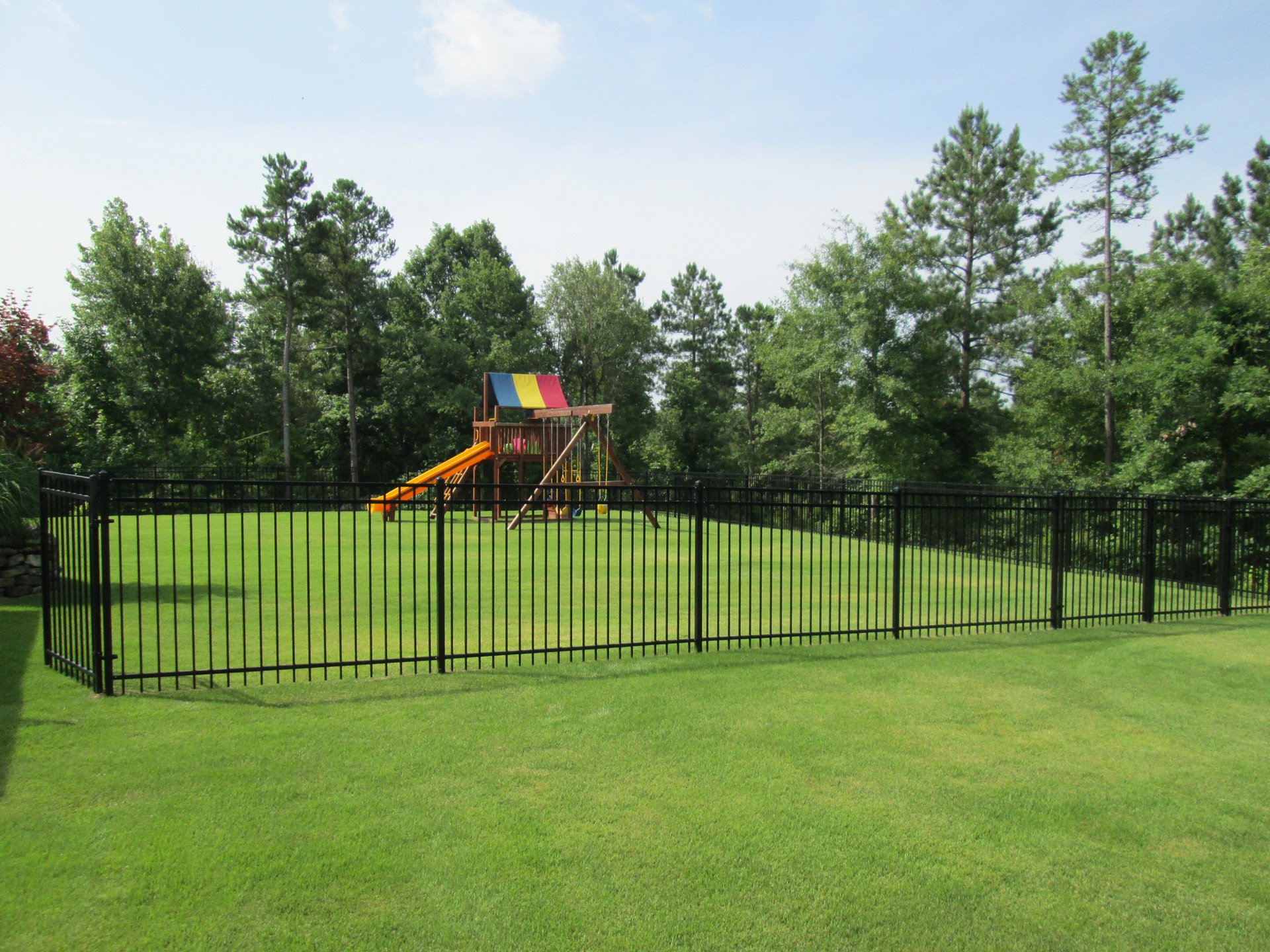 Steel fence panels speed up installation
The best fencing for large acreage properties should be quick and easy-to-install. Steel fence panels can come in sizes up to eight feet in length. Because select options can adjust up to 48 inches per panel to follow sloping or uneven terrain, they can speed up installation on even the most unruly properties.
These steel fence panels' ability to adjust to terrain without creating metal fatigue or compromising their powder coating also work to reduce long-term maintenance. For these reasons, choosing rackable steel panels is one of the best ways to fence a large property.
Fencing options for properties large and small
Of course, the best fencing for large properties is the one that most readily fits a homeowner's needs. Steel and aluminum fences from Fortress Building Products preserve sightlines, follow gradation changes and are low maintenance, making them an ideal candidate for large scale fencing products.
In fact, Fortress® can help homeowners build a high-performance and beautiful fence no matter their property size.
You may also like:
How to Choose the Type and Material for Your Yard Fence